As winter begins to fade it becomes more important than ever to capitalize on your winter season guests. These guests can vary dramatically based on your market but one thing is the same, the main season is ending and your guest are beginning to shift from those coming to stay for the peak season to those who are looking for a shoulder season getaway.
This may not sound like a fundamental difference but there is a large one, guests coming in for a shoulder season getaway generally require a bit more enticing. To make it clearer, some guests go on vacation to a specific destination or timeframe while others go on vacation simply because they have the time and then pick a destination. As your peak season wraps up you will begin to run into more guests who aren't set on a specific destination and will rely more on your marketing to pull them in. What I have done is put together a short list of some tools that your company can use to reel in more of these indecisive vacationers to your rental properties.
1) Use Portals- HomeAway.com and others are ideal for these timeframes. That in-between period when the percentage of homes booked can lower is a prime time to put those properties on portals. There are many PM's out there that don't love using portals, and love them less due to the percentage they charge. When you use these portals right though, you have an opportunity to only lose a percentage of money you would have otherwise not earned. Portal listings can help make your shoulder season
2) Incentivize- This is a rather open ended approach that leaves your creativity to roam.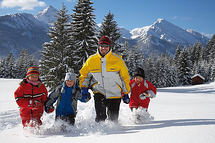 Shoulder season guests aren't set on a destination so the package you present can help sway them one way or another. In the past, we have mentioned things like gas cards for those flying in and renting a car. Other ideas can include deals worked out with local restaurants that offer discounts for your guests and much more. See what your company comes up with and stand-alone from the other choices. A great way to jump start this is by partnering with your local chamber of commerce.
3) Build Relationships- Every time your staff interacts with a potential guest is a chance to learn more about them. Push your staff to learn each caller and track that information, using a crm system is the simplest way to do this. Often an indecisive guest will be indecisive about their booking and this means several calls to your staff. Learning guest's preferences like favorite teams, pets and their name can be the distinguishing factor.
4) Package- This coupled with the incentives tool can push your rental to the next level. If you are one property in a list of many, a very simple way to separate yourself is to become more than a rental. Change your rental from another rental to a rental package and distinguish yourself from the other listings.
5) Repeat Clients- You worked so hard to get your past clients to come in, but too often we forget about them. If someone had an enjoyable stay, use the previous tips and tap into your client base. This client base is the greatest potential guest you have as they have already enjoyed your accommodations once and are less of a hurdle to convince to come and stay.
6) Tap into your owners- With the world of social networking in its current state, your homeowner's success is directly tied to their property being booked so, empower them. Give your owners the ability to push their listings through social mediums from Facebook and twitter to their local classifieds. That's marketing reach you could rarely get as a company.
7) Locals-We call them staycations but there are any number of words for it. How nice would a weekend away be without a vacation sized budget? The local market, within driving distance, is one constantly overlooked by PMC's but can be the difference between an off season and a shoulder season.
I hope you find these tips helpful and if you have more you would like to share (or brag about) please share them in the comments section below and subscribe for more!