Barefoot Activities and Concierge Functionality
Let Your Guest Create a Vacation Experience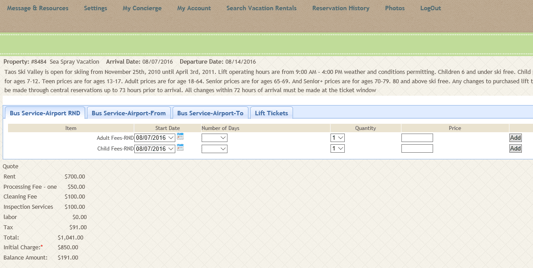 We have long believed in the need for our clients and others in the vacation rental industry to provide more than just a house… the opportunity is there to become the trusted adviser for an entire vacation rental experience by offering concierge (grocery deliver, packages, in house chefs) or related area activities (water park tickets, transportation, zip lines, etc).
Barefoot has the ability to upsell concierge or activity items, by service type – "kayak rental", then have multiple service vendors and then multiple products under each vendor.
Once set up in Barefoot, those can be shared for upsell to the website, internally to the guest portal for upsell (especially during the reservation process) and on the reservation itself if the reservation is taken verbally.
This extension of functionality allows up the ability to do unique things for our clients, like integrate in the ability to add a car rental on a reservation, maintaining both the calendar and this availability associated to the service/vendor/product on the folio. We have leveraged our API to allow clients to integrate with Golf Reservation systems, so that rounds of golf can be added onto a reservation. We've extended this functionality into our group module, which makes managing golf groups to easily book all their golf rounds through Barefoot.
We have also partnered with activity management companies like Xplorie to leverage their specific focus on local activities.
We offer the following functionality
provide concierge and upsell services across all channels, including your guest access portal.
manage inventory with bar codes and coordinate deliveries
record POS charges against a reservation
manage tee times, bus schedules and more