The summer is here with warm weather, boat shoes, cookouts, Frisbee's and family. Did you notice the one thing missing? Correct, vacation rental scams are missing this year because you have read this article on 5 steps to avoid a vacation rental scam!
The next few months are always the prime time for vacation rentals to pop up with a "too good to be true" price, followed by an article about an out of town family looking for answers. We have all seen it and we all do our best to avoid it. Recently, the best means to help eliminate these scams has been through large companies stepping up and cracking down on scammers, like Airbnb has done. Information seems to be the key to preventing these and more people than ever are doing what they can to help.
The newest caution on vacation comes from Rhode Island Attorney General Peter F. Kilmartin.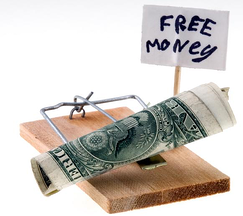 He recently released a string of advice on how to avoid the scams in the Providence Journal. While we agree 100% with the overall message of the Attorney General, we also like to go above and beyond for our readers. To truly safeguard yourself, don't adhere to just one or two of these guidelines follow as many as possible. So here is the Barefoot take on Attorney General Peter F. Kilmartin's vacation rental scam avoidance tips.
1) Use reputable travel agents and websites- and remember that even sites like HomeAway.com and VRBO.com have scams occur more than they would like.
2) Get a phone number if the transaction is by Internet- but keep in mind that prepaid cell phones require little identification to get and can be shut down easily and quickly.
3) Verify and clarify details in writing. Double check property information, date guarantee, total price, what is included and cancellation and refund policy. Read the fine print- and be aware that a contract for a misrepresented property will not cover your purchase by any means.
4) Ask for references- through any means necessary. Social media and review sites are everywhere on the internet, utilize them to confirm the business or agent is truthful.
5) Check with the Better Business Bureau-No comment here, I agree!
6) Pay with a credit card instead of wiring money or sending a money order- Another great one. CC's provide security, plain and simple.
7) Never give out personal information- beyond what is required for a vacation rental. Social security, date of birth and your bank password should raise a red flag.
8) Be cautious of hard-to-verify, far-away properties- This one is tricky because that describes half the places I would like to go on vacation. Be cautious yes but be aware that almost anywhere you would go to vacation, others would too, and that means there is probably a business that caters to those people.
9) Beware of hidden costs or high-pressure sales talks in nearly-free, all-inclusive packages- like timeshare speeches. Bottom line is, if the deal is too good to be true, it usually is, so make sure you read ALL the fine print and asses the risk reward. If it feels wrong, walk away and book somewhere you feel more confident.
When looking to vacation, some people will go to extreme lengths to save a penny. At some point however, the threshold is crossed from a great deal to a literal steal! If you are looking to save money, perhaps a different destination or means of travel would be a safer route than trying to cut back on the price of your rental home. We wish you the best this vacation season and hope that this blog, and all like it, educate rather than impose fear. The summer is a time to enjoy family, friends, views, great weather, and new experiences. Go out and enjoy it!