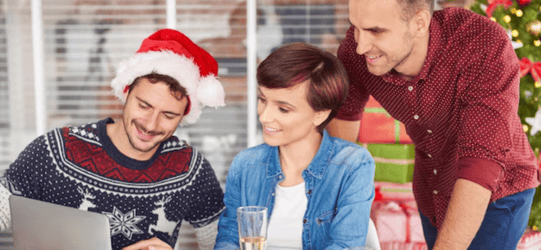 This time of year is a golden opportunity for vacation rental managers to boost their revenue by using the holiday season to reach out to past and new guests for future bookings. In this blog post, we will discuss various techniques that can help vacation rental managers maximize their holiday marketing campaigns, including using the tools Barefoot's PMS (Property Management System) provides, like historical data and dynamic pricing, microtargeting guests, utilizing automations and offering coupons and rewards.
Micro Target Your Ideal Guest
The foundation of a successful holiday marketing campaign for vacation rentals starts with targeting one of your most important assets—your existing guest database. Past guests are an asset for vacation rental managers. They already know and trust your property, making them more likely to return during the holidays.
Using Barefoot Agent's unlimited amenities, you can collect data points for your guests, including their interest and preferences. Use this data to generate lists and build email campaigns around snowboarders that want ski in and out properties, foodies who crave the chef ready kitchen, or the parents of young families who want the convenience of a pool. When presented with a property that seems tailored to them, your guests will be happy to click on that book now button.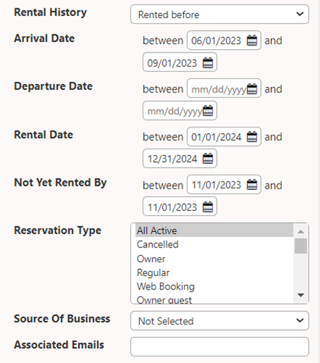 Pro tip: In Barefoot, on the Search for Guest page, you can use the Rental History drop down to cultivate a list of all guests that had rented with you before during a certain time period, who have not booked with you yet. Do not forget to scroll to the bottom of the search page to add those guest amenities into the search as well.
One of the most effective touches to past guests had been built on a previous social media campaign, where they asked guests to submit a photo during their family vacation as part of a contest. They then used that photo as a holiday postcard to market back to their most valuable repeat guests... the response rate was off the charts.
Pricing Strategies, Coupons and Rewards
Dynamic pricing can jumpstart your holiday marketing campaigns. It involves adjusting your rental rates in real-time based on several factors such as demand, seasonality, and booking lead times. Here is how to use dynamic pricing effectively:
Analyze historical data using an integration to

Key Data Dashboard

to identify booking patterns and demand trends during holidays.
Use the dynamic pricing module in the Barefoot PMS to increase the pricing of homes that you know will be in demand, like your homes with more bedrooms. Families gathering over the holidays typically discuss their vacations when they are together.
Utilize a revenue management partner, like

Beyond

,

Wheelhouse

, or

Pricelabs

to set prices. Their algorithms consider factors like local events, seasonal demand, and competitor's rates.
Use the Barefoot coupon module to attract new clients, or to make sure that the clients you got through a portal are booking with you directly.
Use the Barefoot Rewards points module to reward repeat guests with special activities, branded swag, or extra cleaning services.
Encourage past guests to leave reviews and share their experiences on social media to attract new guests.
Leverage Automation
The point of using technology to help you run your vacation rental business is to create efficiency through automations. During the holidays, you should be using the following automations to help you book business with high customer service:
Use automated emails based on triggers to communicate with past guests, guests who have made a reservation, and do not forget your owners. Pro tip: Set up a simple email that goes out to your owners when a booking is made at their property.
Using Barefoot's eSignature product, have your incoming guests sign their contract electronically. As part of that process, have them go through an upsell page where you offer them additional services that make their vacation an experience.
For accounting ease, use the automated credit card processing tool to make sure that you are billing your guests with a credit card that they used initially, for all subsequent payments.
In a competitive market, holiday marketing campaigns can make a substantial difference in your vacation rental business. By applying the strategies discussed in this blog, you can seize the holiday season's potential to its fullest, increasing bookings, enhancing customer satisfaction, and boosting your revenue. Elevate your holiday marketing campaigns and watch your vacation rental business flourish with the help of Barefoot Technologies tools and partners.
Barefoot provides an all-in-one solution for vacation rentals and those that act more like resorts, with access to industry-leading partners to extend their technology stack. Our technology assists the professional vacation rental manager acquire and retain guest, owner, and vendor relationships with industry-leading trust accounting. Barefoot is under continuous development, with a new user experience being implemented as version 5.0. Because we place an emphasis on knowing and delivering on our client's needs, we have a 95% client retention rate. For more information, please visit the Contact Us page.