Guerilla marketing is a great advertising strategy where a low-cost unconventional resource is used. It could be in the form of street art, sticker bombing or as a part of a product (e.g. Colgate used the stick in an ice cream). It is used to promote a product or an idea in a competitive market. Here is 122 must see Guerilla marketing examples that are very creative and effective.
This marketing strategy may be hard for a lot of vacation rental companies because of the fact that their target market is not usually in the same vicinity as the properties. But there are hotspots to attract return visitors to the area, like airports.
A billboard could go up on the road to the airport enticing travelers to stay in your vacation rental on their next visit to the area. This billboard would have to be unique, possibly changing from the angle you view it from to make it stand out, as well as having lighting when it gets dark that keeps people interested in it. The picture would attract people to come back and stay with you and they could receive a discount if they refer to the billboard when booking.
Beau Rivage Resort Casino used images of people swimming in their pool along the baggage carousels in an airport which was targeted at the weary traveler in a very creative manner. This would make the time people are spending waiting for the luggage to arrive not so boring and frustrating.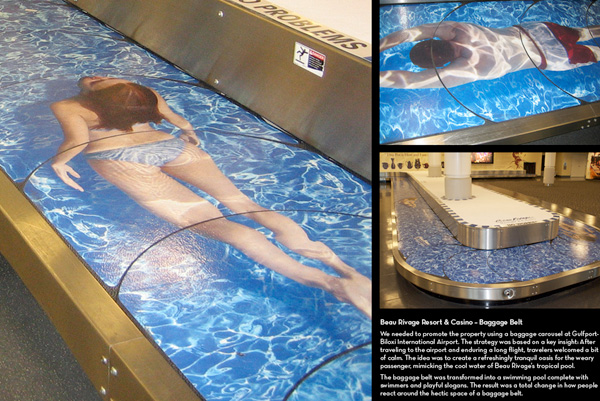 Photo courtesy of Beau Rivage Resort & Casino
Locating hotspots where you think potential customers will be exposed to your advertising will generate more hits to your website and more bookings. Having imaginative billboards in northern cities during the winter, tempting people to escape the cold and enjoy some time on the beach is one way to increase business. Other billboards could be shaped as a snowy mountain with a skier coming down the slope if your properties are located in ski resort areas. Public transit like subway stations and bus stops are also extremely popular places to advertise on and are located in places that will get a lot of publicity. A promotional message attracting people to vacation at your rental property will be easily seen on the side of a subway station in New York City for example. Because you're working with a limited amount of time and a tight budget, the message and the image are more important than the location. You can have a bigger reach with a stronger message instead of more expensive locations.
Guerilla marketing relies on having time, energy and an imagination rather than a big marketing budget. Consumers are often targeted in unexpected places and in an unconventional manner. Its objective is to create a unique and thought-provoking concept that will generate buzz and go viral.
There are going to be risks involved when trying to do something different, which could be how people will receive the service being offered by the vacation rentals if the advertising does not have appropriate placement. Misrepresentation of the brand image through word of mouth may not give the brand image the appropriate interpretation. You want to make a good impression while taking people by surprise. Reaching people on a personal level and being memorable to them may be difficult due to the service of vacation rentals. But, you will still be noticed and distinguished from the competition while earning a reputation for being fun and different.