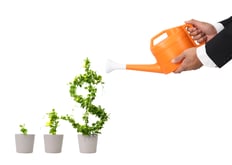 Yield Management/Dynamic Pricing/Revenue Management...you can call this many different things, but as our business changes, we need to look at how to maximize our revenues to both your Vacation Rental Management company, and to your owners. There is an excellent article that I found on VRMA weekly newsletter titled How to Make Yield Management Work for Your Vacation Rental Business CLICK HERE. Managing rates is an ever changing business, and you need to be aware of what is happening in our industry.
How many "seasons" to you have? One, two, three? High season, mid-season, and low season? Summer, winter, spring, fall. This has been the practice for many years. We have seen a dramatic change in this, where some companies are actually changing rates almost every week, especially in their peak season.
I had one of the Barefoot clients come to me, and said how excited he was that one of their larger houses was completely rented out for the season before the end of February. I suggested that maybe his pricing was too low. How much more could he have gotten in rent, if he increased the price by 10%, and it wasn't completely booked until the end of March? I do not know, but it is something to think about.
Do you know how many days before arrival your properties are booked? If a majority of them are between 60 and 90 days, then would it be appropriate for you to raise rates on these units during that period of time? That would probably mean that your guests are most serious at this time, and you might be able to add to the revenue.
On the flip side, do you know when your booking is at the low points? Maybe it is 120 days out? If so, would it make sense to reduce some of those rates? Of course, you don't want to take revenue away from peak revenue times, but by evaluating your business based on how long before arrival a guest makes their reservations could help you maximize revenue.
The other tool you might want to use is minimum stay requirements. And this might be better for the last minute bookings. If you generally have a minimum stay of 7 days during certain dates, and the property has not been booked two weeks out, how about reducing the minimum stay to 4-5 days. Then put that on your website, or some other way to advertise it. If it is one week out, maybe you might want to have them stay 3-4 days (premium pricing, of course). Is it better to have the unit filled for 3-4 days than not to be filled at all?
Whatever you want to call this, the world is changing, and you if you want to maximize your revenue for George Volskyyou and your owners, you should really look at what is being offered today. Barefoot Technologies providied all of this data for you to help manage this information. We also work with a consultant, , who has been in our industry for many years, and could be an excellent resource to help you in considering if this might be valuable for your consideration.