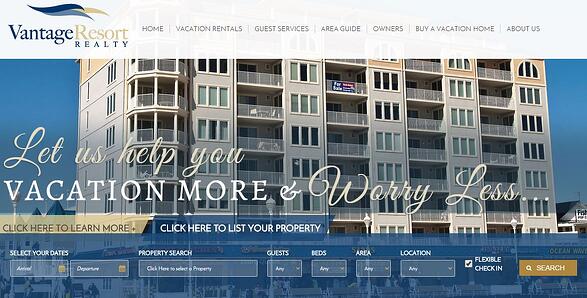 I have been in this industry for over eleven years now, and I have seen many changes with companies like Home Away, Wyndham, Resort Quest, and regional companies using their presence to really shape our industry as we move forward. From the standpoint of software, we have seen tremendous consolidation. Believe it or not, after 16 years, Barefoot Technologies has outlasted almost all of our competitors, and we are stronger than we have ever been. As the industry changes, so does the technology needed for the success of the vacation rental websites.
Eleven years ago, you might remember things like metatags and very simple algorithms are what powered your website's ability to be found by consumers. Google wasn't that important and certainly wasn't dominating the search engine results. Most software companies like Barefoot offered a templated booking engine, and whether you used that template or even an iFrame (remember iFrames?), it really didn't make that much difference with your search engine optimization (SEO), as long as your metatags were in place.
So then comes along Suggest, Caffeine, Panda, Venice, Penguin, Phantom, Hummingbird, Pigeon, Pirate 2.0, and who knows what other drinks, birds, or mammals there are. Are they familiar to you? They are just some of the named Google updates over these eleven years. Today, Google dominates the search engine market. They have made "metadata" obsolete, and now the SEO universe hangs on to every change to their algorithms and the use of relevant content and location. Each Google update has demanded changes within your websites and that makes the choice of your web company so much more important.
Web companies are working with more than just Google updates, they are leveraging technology to provide "responsive" sites, and/or "mobile friendly" sites. In many instances, the complexity of building and maintaining websites are no longer able to be done by the staff within your company any more. It is no longer enough to just have a site. You need to know how SEO works, and other new tools to optimized your site. It often takes longer, and generally is more expensive. Rather than creating one website, a responsive design requires three websites to be built: mobile, tablet, and desktop. Your site can't just look nice. It has to be functional, with each piece of that website bringing more people to your site. Once there, the site has to be easy to navigate, and must be easy to book a rental property. Online booking has become a huge part of todays' business, with some companies having well over 50-60% of their reservations coming from online bookings. A significant part of these results can be attributed to the web companies. There are many very good web companies that work with Barefoot. Our friends at ICND, in some instances, have seen upwards of 100-600% more visits to their sites from moblile, and in certain instances, 10-30% decrease in desktop visits. This technology and these partners are extremely important as you move forward in 2015. And as this new technology is implemented, your webiste partners become more and more important in your business.
This all brings me back to Barefoot, and how we can be part of your success. As the technology evolves older website booking engines are becoming obsolete also. We offered a blog recently about leveraging API tools (Application Programming Interface-a set of routines, protocols and tools for integrating the data) technology. You can go to CLICK HERE and read that particular blog. It will give you great information on how Barefoot is leading our industry in providing the most advanced API tools for our clients to use.
All these web companies need access to data from your property management software. And they have to be able to retrieve that data in a manner that is easy to build and put on a website. This is not easy to do, and unlike many of our software competitors, Barefoot welcomes the opportunity to integrate, and build partnerships so this data gets to the proper place at the appropriate time. As more property management companies understand the importance of the newer technology in the design and functionality of their websites, the API tools are becoming more and more important to the construction of that perfect website. This means that you have a site that uses Googles algorithms for their success; the site is easy to use, and easy to book a reservation, with results you can quantify.
So what does all of this mean to you? Your website is becoming more and more important in the success of your business.This includes presentation of the information from the software system you are using. Simple booking engine templates are no longer the "leading edge" of technology. Delivery of the best information, which will provide the results you demand, will require you to have the latest technology for both your property management software system, and the best integration tools they provide from all the partners available.
Barefoot works with many fine companies that provide an integrated tool for you to use. If you go to this link, BAREFOOT PARTNERS, you can see just some of the companies we work with. If you need any assistance with your property management software, or just want to talk about how these partnerships could benefit you, please let us know by contacting us at sales@barefoot.com, or if you choose, call us at 877 799-1110 Ext. 1.