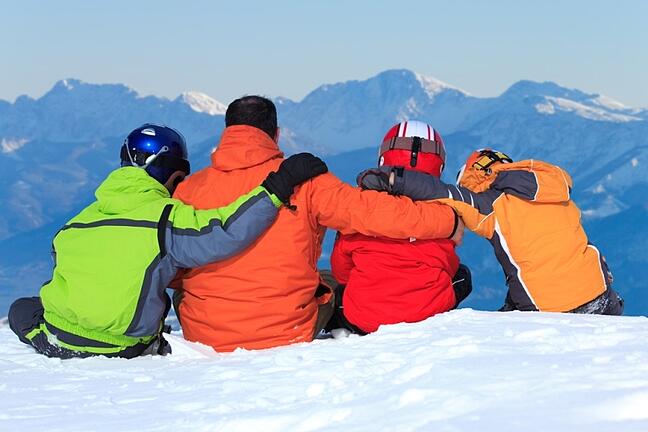 A spectacular family vacation depends on three things – the time of year you go, where you go and where you stay. During the winter months, there is nothing like taking the family on a ski trip where an immense amount of fun is packed into ordinarily no more than a week. Ski resorts are abundant in North America and many of them have atmospheres and activities that cater to families.
At most ski resorts, there are also the standard ski resort hotels that offer very nice accommodations along with very nice prices to accompany said accommodations. However, as an alternative to cramming the entire family into a small hotel room, many families seek out vacation rentals in and around the resorts so that they can spread out and truly enjoy the week.
But when it comes to family vacations, there is one thing that trumps everything – there needs to be stuff for the kids to do. Switching out one word, when it comes to a family vacation, "if the kids ain't happy, ain't nobody happy." That goes for all kids from small ones to teenagers (the hardest to please). Luckily, with most ski resorts in the US and Canada, there are tons of things for the kids to do with and without their parents.
Here are some of the most family-friendly ski resorts in the US and Canada:
Snowmass, Aspen, Colorado. There are four resorts situated around Aspen, Colorado – Snowmass is probably the most family-friendly resort and a popular destination for families. For the most part, when it comes to Mom and Dad wanting "adult time," they typically take an afternoon to ski together and a night or two preferable at a nice restaurant with a menu that does not include chicken finger baskets or crayons. For this to happen there has to be a place to take the kids. That is where the activities kick-in. From ski schools that accommodate different ages and levels of kids (think toddlers on skis) to teens who want to master tricks to the Treehouse complex at the resort with indoor and outdoor activities, there is always something for kids to do. One of the most fun family activities takes place on Friday nights during ski season. Elk Camp, Snowmass' on-mountain restaurant, turns into which transforms Ullr Nights into a winter wonderland. Families can ride down Ullr's Ghost Ship which is made of snow and is filled with lights and a slide, go sledding on a Viking sledding, take snowshoe tours, and yes, end the evening with s'mores and hot chocolate.
Whistler-Blackcomb, British Columbia. Here is where serious fun can be had. In addition to the typical ski schools and kids' activities, there is another element of fun -- think tubing. The Coca-Cola Tube Park is like nothing your kids have ever done. Sure, you have probably gone "tubing" with them on a decent hill after a good snowfall, but this place is tubing in all its glory. Located at Base 2Zone of Blackcomb Mountain, Coca-Cola Tube Park offers multiple lanes for tubing and accommodates tubers at different levels. The best part is that you can go during the day then head back on a different night for nighttime tubing. On top of the Tube Park, Whistler-Blackcomb features tons of other family activities on and off the slopes including the family zones for skiing, the Magic Castle on Blackcomb and the Tree Fort on Whistler, and ice skating at Whistler Olympic Plaza.
As for vacation rentals, Whistler-Blackcomb is home to some of the most amazing places to stay. Might we suggest you take a look at Barefoot customer, Mountain View Accommodations at www.mvawhistler.com. You may also check out dwellable.com, where the choices range from smaller two and three-bedroom ski-in/ski-out condos to huge four and five-bedroom chalets that let everyone have their own rooms not to mention tons of places to keep equipment.
Big Sky Ski Resort, Montana. The main thing that anyone who has vacationed at Big Sky Ski Resort says about the resort is that even though there are a lot of people there, it never feels crowded. This is very important for family vacations because it means that kids do not have to wait in line for extended periods of time. For those people with kids, you know what we are talking about. As for kid-related activities, Big Sky offers half and full day ski schools for kids and works in conjunction with the kids program, Lone Playhouse, that provides activities if they want to spend a day off the slopes or do a little bit of both. As for family activities, where do we start? From snowmobiling to dog sledding to tubing and zip lining, this is a wonderful place to spend a vacation.
Just like the other areas, we suggest that trip planning should include looking at alternatives to staying at the resort. There are tons of vacation rentals to consider many of which are situated in ski in/ski out locations to make it that much easier.
Check Out Vacation Rentals
We know that most people enjoy spending a week at the beach but there is nothing like a week in the snow where the kid in all of us comes out. Everyone is happy and smiling when on winter vacations at ski resorts.
No matter where you go, be sure to check out vacation rentals for your accommodations. We all know that there is nothing worse than having to sleep, eat and just hang out in such close quarters as hotel rooms. With vacation rentals, everyone stays happy the entire week and has the time of their lives.