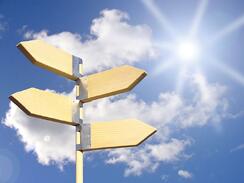 I've been thinking about how vacation rental management companies use partner integrations. As part of the sales team, it seems that the customers that we are onboarding are looking for more options when it comes to the partners that they want their vacation rental management software to support.
Here's the difference between some other vacation rental management software and Barefoot. We are aggressive in our partner program. If you need to work with a particular partner to be successful or competitive, we want to make that happen for you. We like to give our customers the option of working with whatever marketing portal, payment processor, web designer, etc. So we tend to throw our hat into the ring when our customers need something. It helps that we have been around for fifteen years and have a well developed API and a development staff to make it happen.
Ed Ulmer, CEO of Barefoot, offers the following perspective. "We at Barefoot believe in being a good cloud partner. For most in this industry that means we host your system on the web for you to access anywhere you have internet. For Barefoot of course, we are internet based and while we have the most dynamic rental system in the industry and we are quick to adapt, we realize that there is other technology and expertise out there and we are excited to include those relationships as part of our cloud for the sake of our clients."
Here's where we stand right now when it comes to partners:
we have over 50 marketing portal partners and are adding more every month.

LeisurelInk, Inntopia, and Yield Plant all get you to the OTA's as well as the GDS, creating even more exposure for your properties.

we have 4 different payment processor partners, so you can work with those you trust.

we have 3 keyless entry partner integrations to create check-in efficiency.

we are constantly improving our partner relationships, with new functionality with most advanced NAVIS integration being introduced shortly.

we work with the best web partners in this industry, so you can design the website that is right for you or you can use our ilink functionality.

our 5 insurance partners are the best in the business

we integrate with Docusign, so you can have one system of record for your reservation process.

Not only do we have great housekeeping and the best work order management system in the industry we work with 3 third party systems that take the communication process further.

We offer multiple guest access tools including Glad to Have You and our own product which was the first guest access in the industry with unique social media tools.

Because we move quickly, Barefoot was one of the first systems to integratewith Paybygroup, Blackcloud, Club Soft and other technology that will help you move into the next generation of cutting edge vacation rentals

Want to learn more about any of these integrations? Contact sales@barefoot.com.
One of the benefits of having a well developed API and development team means that we get to integrate with HomeAway very tightly. We have a transactional relationship with HomeAway that means that your property information is up to the minute should you choose to use this marketing portal.
Add your inventory to the HomeAway network without paying a thing... until you get results. With pay-per-booking, you can take advantage of the 65 million visits per month to our network of sites and only pay a small commission on the bookings you receive
List for free now


With no upfront costs and a low commission, HomeAway pay-per-booking is the no-risk way to list your properties.

More exposure, more bookings


HomeAway has the top vacation rental sites all over the world. On average, property managers bring in $28,000 annually per property from HomeAway bookings.

Integrated with your software


Build and manage your HomeAway listings from your own software. The system syncs automatically so everything you do there is reflected on HomeAway too
Are you working with a vacation rental partner that is interested in supporting your needs, and can get you guick integrations? Find out why our customers are happy and we have not lost a customer in 3 years. Why go someplace else when you can add all the functionality you need either through our system, built to be tailored, and work with the partners you want?
Want to learn more about Barefoot partners? Please follow our blog at www.barefoot.com/blog or see our page at www.barefoot.com/partners.We also offer partner webinars and will announce those on all of our channels.