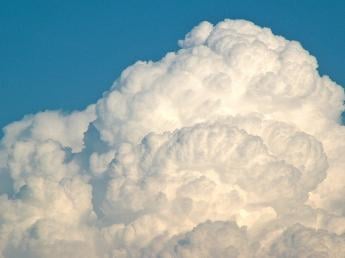 When you log onto the internet, and you get the log in screen for any cloud based system, do you ever wonder where that data actually is? When folks go to your website, and click on "book now", do you ever wonder where that data is stored? For those of you with a "smidgen" of curiosity, allow us to offer some information that can give you the confidence your data is in very safe hands.
So what does "web based" or "cloud" solution actually mean? Is the data residing at 30,000 feet in the air?
Well, that would be very interesting, but certainly not the case with the Barefoot solution. For over fourteen years we have provided a cloud based vacation rental management solution for our customers.
This is different than if you have data on a server in your office. As long as your server is plugged in, and running, you could get access to your data. This technology has some drawbacks, including keeping the server equipment maintained and up to date, having to load software updates on this computer and the connected terminals and weather or emergency events that cause the entire system to not be available.
The Barefoot cloud based solution works the same way without the drawbacks. This is because instead of the server being in your office, it is in a "data warehouse" that provides the services in a variety of ways. One way is called co-location servers, where you lease servers from an individual company. About five years ago or so, "virtual servers" came into play. Virtual servers can probably be described as one giant server, and each company is "allocated" certain space on that server. That is a very simple example, but can give you an idea of how it works. Barefoot decided about three years ago, we needed to make a change, and decided on the "virtual" solution. It was cutting edge at that time, and continues to lead data storage technology today.
This data warehouse provides all we need to keep you up and running, wherever you may access your system through an internet connection. With that cloud solution, our success or failure really depends on our technology partners. About three years ago, Barefoot made a change to QTS (www.qtsdatacenters.com) in order to ensure not only the quality of our data, but also the ability to manage the growth we anticipated. QTS is one of the largest data warehouses in the US. They have offices all over the country, with Barefoot's data actually in the main facility in Atlanta, Georgia.
"Virtual Servers" give us the opportunity to easily grow our capacity. When you need to upgrade your server in your office, you have to pull out some RAM, and replace it, or you have to remove a hard drive, and replace that. With a virtual server, you can imagine that server, or a group of servers, and Barefoot has access to a part of those servers. When we need to increase the RAM, they "allocate" more resources, and our RAM is increased. If we need more hard drive space, they can "allocate" those resources, and we get the increased space. Our data is actually stored on what is called a SAN, or Storage Area Network. It is the most efficient way to store data, and offers us the capability of adding what we could call disk space whenever we need it. All of this space is managed for us, with privacy and protection for your data that is unparalleled in any industry.
Is my data safe?
This is something we looked at very carefully. This is critical for our customer's protection, and with that said, we actually have dual firewall protection in place. All data coming into our system has to go through two complete firewall systems, in order to get into our servers. That includes from the internet through your websites for any guests, and it also includes from your staff. No one has access to any of our data that doesn't have to go through both firewalls, and thus protection that you can count on.
What about backups?
Barefoot backs up our data every single evening, and takes data offsite once a week. We are very conscious about protecting our customer's data and do everything possible to make sure it is safe.
The bottom line:
Barefoot Technologies has grown tremendously in the past few years. We have some exciting new clients, as well as wonderful clients who have supported us for many years. We understand that we need to be on top of our technology solutions in order for us to provide you with the best possible tools available for your needs today, and the needs of the company in the future. We will continue to upgrade our servers, and continue to look for ways to provide the best technology available to us to meet your needs today, tomorrow, and well into the future. We have made some significant changes, upgrades and enhancements this year, and have already prepared for not only this upcoming season, but also looking to 2015, and what we will need to best serve you.
We thank you for the confidence you place in us, and our technology. We will continue to provide the best solutions, with the best possible technology for many years to come. If you have any questions about this, you can contact our support team (support@barefoot.com), and they would be happy to help in any way they can.
Mike Mueller
Sales Manager