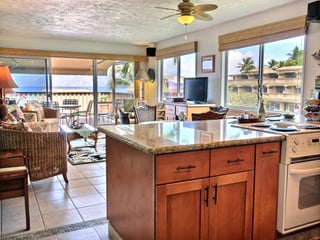 Being a part of the Vacation Rental industry for the past 15 years or so I have seen many changes and the growth is amazing. However, there are some constants that I feel will always need to be part of a vacation rental home.
Hotels have the advantage of staff being available 24/7 with a concierge to help a guest with most requests. However; we all know the advantage that a VR has is that it is much more like a guest's home. So, the key is to make sure it is appointed that way.
Kitchen
Make sure there is quality/matching dishes – this is inexpensive and easy to keep on top of. Can you say IKEA!

For cooking make sure the kitchen is well stocked (not food). There is nothing worse than going into a rental only to find a few cooking utensils or pots and pans.

Stock with basic cooking and cleaning supplies: salt and pepper, paper towel, cleaning soap, dishwasher soap, scrub brushes, etc.…

Coffee Maker with a couple of shots of coffee.

As a nice treat leave, a few bottles of water in fridge, a package of fancy cookies, or a few energy bars. This is always a nice touch.
Bedrooms
Phenomenal beds. You don't need to get top of the line, but make sure the beds are clean, and new (within the past 5 years). Especially in the master bedroom! Get king size if you can.

Quality linens, pillows, and comforters. Again, make sure these are fairly new.

Flat Screen, wall mounted, streaming TV's. - The leap that TV's have made in the technology front is amazing to me. You can get a very good HDTV that has streaming capabilities for cheap. Make the investment.

Tasteful and updated art, décor and paint. You don't need an interior decorator. There are so many shows and info online about rehabbing, decorating, etc. Find a simple scheme and put it together.
Bathrooms
Make sure it is clean. If you have fixtures or items that look old and tired replace them. This is more of an investment, but having a bathroom that is updated and clean is so important.

I recommend replacing towels each year. Fairly inexpensive and people notice quickly if their towels are tired and dirty looking.
Take the toiletries up one level. This one really sticks out to me when I go into a bathroom. The soap that is so tiny and lasts about 2 showers and the generic little bottle of shampoo that is left along with the hand towel that was shaped into a swan. The swan is ok, but add decent toiletries.

Hair Dryer(s) Maybe

even one for each bathroom. I hear it each time I go with my wife and two girls if there is not a hair dryer.
Living Area
Fast and Reliable Wife – Don't cut corners here. Stay a night or two in your properties and try to do your day to day online work. Guests expect this unless they are looking to get off the grid.

Comfortable/New Couch and Chairs

Nice big screen streaming TV (DVD and DVD collection optional) If you are going to supply DVD's, Walmart is a great place to look for inexpensive DVD's as well as finding some barely used DVD's at garage sales.

Games/Books – Make sure the games are complete and updated. You can get classic games like operation, monopoly, twister - brand new and cheap.
Miscellaneous and Always Exciting for Guests
Hot Tub

Fireplace

Game Room (Billiards, Darts, Foosball)

Washer and Dryer (supply with at least 1 or 2 loads of laundry)

Baby Gear – Crib, High Chair

Keyless Entry (This is probably more of a benefit for the Property Manager than for the guest)

Maps, Guidebooks, Entertainment Guides. I know there is a thing called the internet, but you are the expert in the area, give them info that your guest can start from.

Transfers and Tours – Upsell your guests, airport shuttle pickup, equipment rentals with local companies, tours in the areas. Be creative and make some additional revenue.

Gift Basket – I think this is a great touch. Something to make the guest feel special. How exciting is it to open a gift when you arrive from your travels? Snacks, water, sunscreen, etc.…
I am sure there are many more amenities and items that could be added to this list. Please feel free to let me know or send your own checklist so everyone can see. Wishing everyone an amazing summer season!