During 2019 Barefoot has a goal of helping our vacation rental software clients provide more value to their homeowners by providing asset management tools within the software. We introduced a comparative market analysis report to our clients at the recent Barefoot User Conference. Tools are good but knowledge is power. I am sharing the presentation that I gave to our clients here to help you look at asset management and climate resilience.
We know the climate is changing. We are seeing sea levels rise, more powerful storms that last longer, like Hurricane Michael and Florence and fires that consume greater inhabited areas out west. As weather As weather and other climate-related disasters intensify globally, so do the economic effects. According to the U.S. National Oceanic and Atmospheric Administration, the number of inflation-adjusted, billion-dollar climate disaster events in the U.S. alone grew from 28 during the 1980s to 91 from 2010 to 2017, which is a thirty percent increase in. During the same time period, the average annual costs rose from $16.7 billion in the 1980s to $80.5 billion from 2010 to 2017.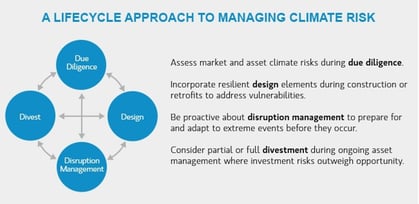 John Klopp, Head of Global Real Assets for Morgan Stanley Investment Management states ""Given that real assets are often held for 10 years or more, climate resilience is becoming an investment imperative. By undergoing a comprehensive evaluation of climate change impacts at the asset level, investors can most accurately weigh risks and returns."
Building up resilience involves takes a lifecycle approach to managing vacation rental home investments. From your perspective, this should include initiatives to:
prepare for big weather-related disruptions,
have plans in place to handle them deftly when they happen,
work with insurers, local authorities and vendors who would be available to make repairs
develop a program to provide housing to FEMA, construction and medical resource workers
You should also actively engage with your owners to help them with design improvements that can boost resilience and retrofit assets to higher standards. Some suggestions would include storm resistant windows, extra insulation, installing generators and raising the home.
Someone on your operations staff should also take a role in understanding the local, county and state building codes. Here's one example of how building codes were relevant to surviving structures for Hurricane Michael. In Florida, under the statewide code, most new structures in Miami-Dade County, including homes and office buildings, must be designed to withstand winds around 175 miles an hour. Officials in the stretch of the Panhandle — including Mexico Beach, Apalachicola and Panama City — had argued that this was too onerous based on current storm history, and the design standard was held to as low as 120 miles an hour. With one-minute sustained winds of 155 mph, the structures were not capable of withstanding the storm. Hurricane Michael is now known as the second strongest storm to hit Florida. Wind rating matters and so do building codes. Be part of the information chain to owners about the requirements.
It may also make sense to have someone on staff to oversee your disruption management plan. For business continuity, this person should have a good understanding of whether the electrical and telecommunications systems could be impacted by floodwaters and whether they have backup data centers and alternative hardware to support stability of operations. This is true not just for weather related disruptions, as exemplified by the electricity being cut to Hatteras during the summer as a result of an error during the construction of the Bonner Bridge. This person should also have a communication plan in place for owners, guests and vendors. They should line up suppliers and contractors who will be ready to respond in an emergency, including strong ties to local insurance companies. As the on the ground person for homeowners who live on average 200 miles away, you have the opportunity of being invaluable to your owners.
I am sure that there are other strategies and takeaways that those of you who have been through weather disruptions would offer and I look forward to your comments.
For over twenty years, Barefoot has provided vacation rental and property managers with the tools they need to run their business their way. We are constantly developing our software based on our client's needs. In addition to communication tools for owners, vendors and guests, we are focused on providing other tools to help you become an asset manager to strengthen your value propositions with your owners.