Barefoot invites our partner Truplace to share some information about how to best leverage photos in the vacation rental management world.
Are Your Photos Confusing?
Every vacation rental manager knows the value of photos for showing off their properties to potential guests. Unfortunately, these days anyone with a smart phone camera considers himself a photographer, which is why we see photographs of every type – some good, most bad, few great – photos that are under exposed, over exposed and blurry, with lots of shadows, flash reflections, and minimal detail. Plus, most photos don't tell you the location of the photograph. This is NOT what you want your guests to see, or your homeowners. It's confusing for them and your reservation agents.
Why Is It So Dark?
Take the following side-by-side comparison photo. The shot on the left was taken with your basic point-and-shoot camera. When viewed by itself, you may think, "hey, pretty nice shot." But when viewed next to a photo of the same room taken by a professional, the differences are stunning.

The pro photo has much more detail, no window glare and perfect lighting. You can see the pattern in the sofa, the detail in the fireplace, and much more of the room. This is the way you want to show your properties. This is what your guests want to see and it is what will bring in more bookings for your homeowners.
Where Am I?
There's another problem with these photos, even with the professional photo on the right. The viewer has no idea where that room is located relative to other rooms in the property. Does it connect to the kitchen? Is the kid's playroom right next door? Is the view of the ocean out that window? Does grandma have to walk up stairs to her bedroom? You could certainly add text to the photo that says "living area", "master bedroom", etc. But that still doesn't provide perspective.
A great photo gets you only half way to where you need to be. The other half needs to include a great floor plan. Only by showing where that photograph was taken can your guest know exactly what they are looking at. Many guests have said this gives them a higher level of comfort with the property. Plus, it allows them the freedom to assign bedrooms for their family members prior to arriving. This is just one more way to make their vacation stay more enjoyable.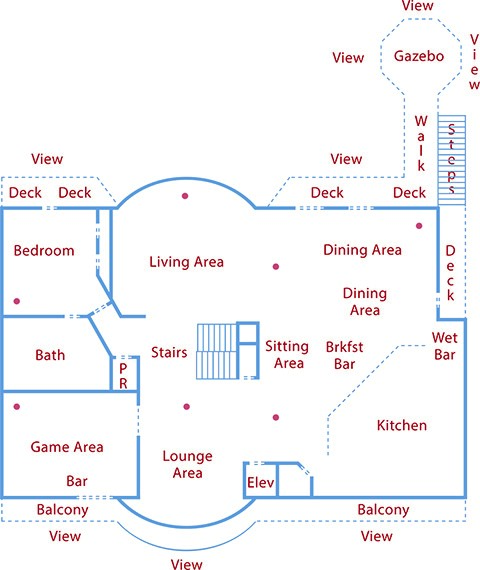 Floor Plan
A good floor plan gives your guests the level of detail they need about where rooms are located relative to each other. Of course, for properties with more than one story, you need to show each level separately and make them easy to access. And you don't want to include details like furniture since that only serves to make the floor plan more complicated to look at. Plus, furnishings often get moved which would require changes to your floor plan. Simple is better.
Tying It All Together
We're almost there. The next step is to tie the photos to specific locations on your floor plan. Now, all your guest needs to do is touch an area of the floor plan and the photo appears. With TruPlace and our Central Image Management System (CIMS), photos appear instantly – the very moment your mouse (or finger) makes contact with that area on the floor plan. No waiting. And each dot shows you exactly where the photo was taken.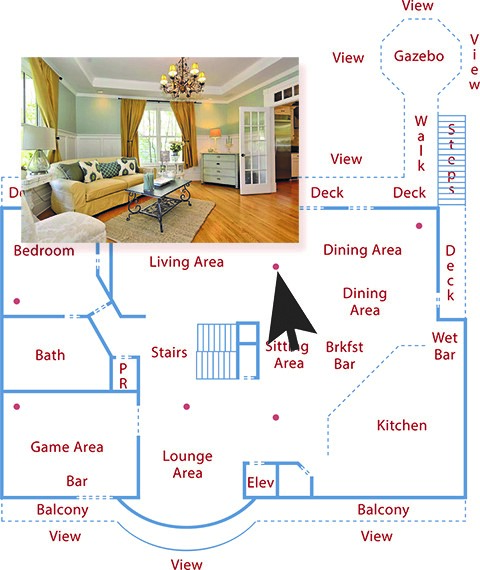 Barefoot PMS Interface
To make it easy for your reservation agents, Barefoot provides full integration with TruPlace Interactive Floor Plan Photos and Central Image Management System (CIMS), giving your reservation agents quick access to your floor plan photos. And all of your photos are stored in a single location, which makes updates and additions fast and easy.
The Research Is In
Independent research from VRMintel reveals the real power of Interactive Floor Plan Photos and the benefits for vacation rental managers. After analyzing more than 6,000 reservations and nearly 500 properties, the results show that VRMs with TruPlace book 18% more reservations than VRMs who don't have TruPlace. Plus, the average number of nights per property is 17% higher for TruPlace clients. More reservations and higher stay value.
End the confusion for your guests and your reservation agents. Give them TruPlace Interactive Floor Plan Photos. See a sample online tour today or visit our website at www.TruPlace.com.