It's no secret that the vacation rental space is rapidly evolving. Vacation rental management companies are facing increased competition, rapid consolidation and changing consumer behavior -- all at the same time. To stay ahead, leaders in the space are having to adopt new technologies and revenue management practices.
Key Data Dashboard is the vacation rental industry's first robust business intelligence dashboard, providing in-depth analytics of a property management company's core metrics. The online software features a platform on which property managers can view their business performance year over year and compare it to that of their marketplace competitors.
"Key Data has dramatically changed the way we look at our business," says Tom Goodman, Barefoot client and Marketing Partner and Designated Broker of Padre Island Rentals. "In an age where big companies and AI continue to modify business models and change our industry, we now stand a chance."
Understanding performance data is the first step to making solid business decisions -- and Key Data Dashboard makes that easy. For years, property managers have focused on ADR and Occupancy as the Key Performance Indicators for their companies and individual properties. However, there are more dynamic indicators that offer even greater insight. Revenue per Available Room (RevPAR), for example, helps property managers identify the "sweet spot" between rate and occupancy in the ongoing quest to maximize revenue -- and it's just one of the 30+ Key Performance Indicators that Key Data offers.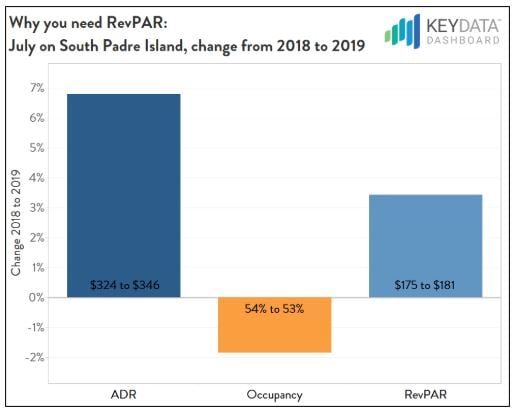 "Key Data offers KPIs we had never before thought of using," says Goodman. "The 'Guest Check-ins by Booking Date' KPI is incredibly helpful in seeing short-term trends in advance booking. I can panic -- or not panic -- and avoid the knee-jerk 'reduce prices now' reaction."
Key Data Dashboard doubles as a powerful marketing tool. Being able to see where guests are coming from and when they are booking, for instance, allows marketing pros to advertise to the right people at the right time. "The 'Bookings by Date' view offers a great quick picture of my year-over-year booking pace," says Goodman. For still greater insight, Key Data's "Reports" illuminates just how effective campaigns and price changes are when it comes to pacing.
Key Data is also a huge time-savings instrument. Understanding the data needed to develop a marketing strategy, and to set rates for an entire company's portfolio, has traditionally required hours of poring over spreadsheets and number-crunching. Key Data does this instantly.
Barefoot is partnering with Key Data to bring these invaluable insights and benefits to our customers. Please click here to find out more and get started today.