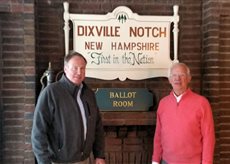 I recently had the opportunity to do a tour of the Balsams Resort, which is Les Otten's (formerly of American Ski Company) new project. For those of you not aware of the resort here is some background. The historic resort, first opened in 1866, has been closed for the last 5 years. It is basically its own town in New Hampshire and is the site of the first in the nation voting in Presidential elections and primaries — there were nine votes cast in this year's primary. The Balsams Resort is an ambitious project to revitalize one of the grand, old resorts in the country. It is truly a beautiful setting, with a world class golf course, hiking, biking and potential to create the largest ski area in the East. Historically, the Balsams, for any of you lucky enough to have ever stayed there, was also known for its cuisine, formal dining and cooking school.
What struck me during the tour was their focus on creating a year-round destination resort (they project only 27% of their revenues to come from ski activities). While lodging is a key component, for the Balsams it is all about providing service to create the best vacation experience and thus a great value. In addition, they have some real estate ownership opportunities available, including the Century Club with plans to add additional vacation rental units on the property.
Over the past few years, Barefoot has seen a steady stream of resort management companies invest in our solution so we have been paying more attention to their market. They seem to be flourishing and it makes sense. Home owners are investing in a place that fits their lifestyle and is turnkey. Guests are also interested in leveraging the same aspects as an owner, great lifestyles and a turnkey vacation experience. They can focus on doing and enjoying rather than planning when supported by an outstanding concierge program.
For those of you who do not have "resort" in your name, the niche market of this model is still obtainable. You don't even need to own all the services to accommodate this market. For example, many of you use outside cleaners already. Is it really that different to offer outside activities vendors? The key to making that happen is good communication management through a variety of mechanisms. This is one of Barefoot's core tenants. Our product has been developed to facilitate the flow of communication.
In addition, by offering services you may find that you may be able to expand your seasonality by focusing on peripherals. I was recently at The Assembly in Denver. This predominantly ski industry event was focused on how to make mountain markets more summer friendly. They are using the same infrastructure-the mountain and setting-- but promoting it to the biking, hiking, bird watching, motocross, fishing crowd, most of whom also ski there in the winter. The key is to make it simple for the guest, give them all the tools to have a memorable vacation and communicate.
Over the next few months I will keep exploring this concept of being more of a vacation company or vacation experience company, not just the rental company, using our blog and client newsletters. Further, if you want to be a resort, then act like one. There are lots of examples and we will share some with you but follow the progression of the Balsams as they get into the process. I look forward to your thoughts and comments below.