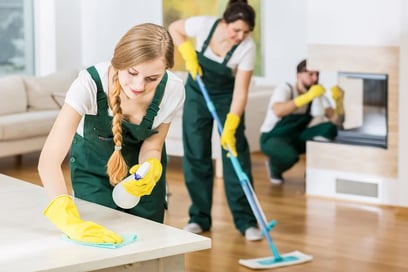 Running a vacation rental management business can be a great way to make money and provide a valuable service to travelers. However, it is important to have a solid operational plan in place in order to be successful. Here are some of the most important things you should do operationally to run a vacation rental management business:
Choose the right properties. Not all vacation rentals are created equal. When choosing properties to manage, you need to consider factors such as location, size, amenities, and condition. You also need to make sure that the property owner is a good fit for your business and that you have mutually agreed to the same goals.
Setting your rates. Your rates will need to be competitive in order to attract guests. There are a number of factors you need to consider when setting your rates, such as the time of year, the location of the property, and the amenities offered. There are many great revenue management tools like

Beyond

,

Wheelhouse

and

Pricelabs

(all of whom have an integration with Barfoot) so rates are adjusted automatically on a daily basis.
Marketing your properties. In order to attract guests, you need to make sure that your properties are visible to potential renters. You should plan to invest in the best website you can afford, because you always want to have direct bookings. You can market your properties online through websites like Airbnb and VRBO. You should also invest in social media marketing and content generation to post on a blog on your website. This will help you with organic searches. Don't sleep on more traditional marketing strategies like direct mail. Surveys from your guests can be leveraged for word of mouth campaigns.
Manage your bookings. Use a vacation rental management software to help you with tasks such as booking, communication, and maintenance. Make sure you partner with a provider who offers reservation functionality along with great communication tools, automations to make you more efficient, robust trust accounting. They will be instrumental in growing your business, so make sure that you have a trusted and consultative relationship in place.
Provide excellent customer service. Providing excellent customer service is essential for any vacation rental management business. This means being responsive to guest inquiries, addressing any problems that may arise, and going the extra mile to make sure that guests have a positive experience. This is also key for the relationships that you have with your owners. They trust you to manage one of their largest assets, so make sure your customer service policies are focused on the owner's needs as well.
Maintain your properties. Your properties need to be clean and well-maintained. Your brand is directly tied to the look and feel of your homes. Make sure that your property management system has the tool your need for scheduling cleanings and maintenance, as well as for restocking supplies. Also, it is important in today's competitive environment to work with your owners to continue to refurbish their homes with higher end fixtures. Keeping your grandmother's furniture and the shag carpet can mean less bookings according to

Business Insider

.
Start with Trust Accounting. Trust accounting is required in some states, but it is an important tool to help you grow your business. Make sure that the trust accounting assists you in understanding where the money that is held in trust is correctly allocated, pays owners, vendors and guests and helps you with reporting taxes and 1099s reports. If part of your plan for growth is to be ready for acquisition, you'll be glad you invested the time in implementing trust accounting properly..
Stay up-to-date on regulations. The vacation rental industry is constantly evolving, so it is important to stay up-to-date on regulations, especially the local entities who are considering restrictions on short term rentals in your market. Get involved early, before there is an issue that will have significant impacts on your business. Be aware of industry advocacy initiatives, including

VRMA Advocacy

and

Rent Responsibly

. Join a vacation rental association to network with other professionals in the industry and stay up-to-date on the latest trends.
Get the right insurance. You need to have the right insurance in place to protect your business in case of a loss. This includes things like property insurance, liability insurance, and travel insurance. You should also partner with insurance companies like Barefoot partner,

Red Sky Trave

l Insurance to allow guests to be insured.

Safely

, another Barefoot partner, provides a spectrum of insurance products, including
Build a team. If you are managing multiple properties, you may need to build a team to help you with the day-to-day operations. This could include things like housekeepers, maintenance workers, and customer service representatives.
By following these tips, you can create a solid operational plan that will help you run a successful vacation rental management business.
If you would like to learn more about Barefoot Technologies and our complete vacation rental management solution.