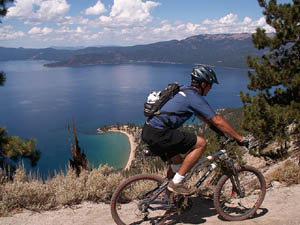 Tahoe ski resorts that traditionally made their money during the ski season are racing to turn themselves into vacation experience providers by turning into an outdoor sports mecca in the summer. Designed as a way to bring tourists to the majestic mountains almost year-round, the "non-snow" activities have never been more important to the bottom lines of the businesses. The drought that has ensued for several years has taken a severe toll on the Tahoe ski resorts and according to a recent article in the Modesto Bee, "climatologists are predicting long-term declines in snowfall throughout the Sierra Nevada."
For many business owners and resort and vacation rental managers in the Tahoe area, this horrible drought came at the most inopportune moment (not that is ever a good time) when the area was finally climbing out of the recession and a couple of good storms had kicked the winter skiing season off with a bang. Then…nothing.
This is prompting resorts and vacation rental companies to look at increasing off season activities along with exceptional dining and other forms of entertainment to bring people west and north. Outdoor enthusiasts such as mountain biking, hiking, zip lining and other activities are easily incorporated when reorganizing the value of the area. Let's face it, the mountains in northern California and out west are just as magnificent in the spring, summer and fall, as they are when covered with snow.
Further, vacation rental companies and mountain resorts have begun to promote themselves as a magnificent and unique wedding destination. Think about how romantic it is to see a bride and groom running in a field of wildflowers and thick green grass. OK – that may be a bit much – but it does make for a gorgeous backdrop for an outdoor wedding.
Resort areas that have embraced the mountain recreation business have created new ways to attract visitors to the area. One agile example comes from Squaw Valley which cancelled a huge World Cup skiing and snowboarding tournament because of the poor skiing conditions but turned around and hosted (what hopes to be annual) bluegrass and craft-beer festival – Tahoe WinterWonderGrass.
Additionally, developers are hard at work transferring Lake Tahoe from a "day-trip for gambling town" to a vacation destination location filled with resorts that cater to the outdoor adventurists and those who want to partake in other vacation experience activities. That is why they are spending millions on revamping their resorts to attract visitors from all over the world.
Luckily, the loyal skiers who love Lake Tahoe are not giving up on the weather. While it has not cooperated for over four years now, they still have faith and will be back on the slopes at any opportunity that presents itself. For now, it is time to think out of the box and embrace cross country ski trails turned into mountain bike trails.
Ed's Comments:
"As an avid skier I've been following the ski market and Tahoe in particular with its recent weather cycle. As evidenced by this article, what vacation rental management companies must focus on to survive is to provide concierge services that are directed at niche markets.
Take the mountain biking enthusiast. What add on services can you provide to encourage additional bookings? Perhaps it is a shuttle service for those that only want to ride down the paths or spa services to deal with sore muscles. Build strong partnerships with the other vacation experience companies in the area to make you the "go to rental management company" because you help them plan everything that they need for a stress free vacation.
You should also consider how to approach your niche demographic by the use of appropriate marketing portals. How you present your value as a vacation rental management company on these portals will serve you in the long run.
I would also start to think outside of the box on this… sort of guerrilla marketing if you will. What if you were to create a relationship with other companies in other ski markets? Skiers like to try new places… but what if you could keep your guests in a network of your ski partners, with all of you getting some of the commission for referrals to each other. This is currently being done by a couple of our customers.
As a final thought, you should be working with a software partner that will allow you build what you need, integrate with whom you need and be agile enough to help you deal with changing markets. You should be in charge of your destiny and your business not a company that has to slowly integrate change.
If you would like to have more conversations about concierge, building niche, or building a network of likeminded partners, I welcome your feedback and questions. At Barefoot, we take innovation seriously and have the tools that you need to respond to changing business needs.
Please contact me directly at ed.ulmer@barefoot.com or comment below."
Ed Ulmer
CEO