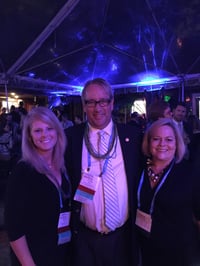 Nancy and Greg Hart of Folly's Best Vacation Rentals
Well, it has taken me over a week to recover from the annual work and fun visit with everyone attending the Vacation Rental Management Association's conference. As usual, I have some takeaways to share.
First, taking a bunch of fun loving professionals and putting them in New Orleans is brilliant. The food, the music, the joie de vie of the Big Easy is a natural fit for this crowd. Well done conference organizers!
Getting to the Heart of the Matter
I don't know how many of you have had a chance to look at VRM Intel's latest offering to the industry… a magazine that is chock full of good information for the vacation rental manager. Amy Hinote's inaugural offering was arguably the industry's slickest offering yet. If you haven't seen the printed version, you can see it online here.
I was lucky enough to be asked to contribute to the magazine and I would like to reprise some of that information here because it is relevant to the VRMA conference.
One thing that always strikes me about this industry is how friendly and welcoming this industry is. The VRMA annual conference always highlights this fact to me. I am not surprised given how most you got started in this industry. You decide that you want to buy a second home or you meet a friend that has a second home and suddenly find themselves doing property management and taking reservations. The next thing you know, you are employing 20 people annually and opening a laundry division.
For you, HEART is the center of your business. It is shown in the exclamations of joy that start the opening night of conference as you see old and new friends. Hugs are the currency of the conference. Heartfelt conversations happen during the conference, in the bar, and at the social events and dinners that follow. You are social people.
More importantly, it is how you understand the difference between providing more than just a home. You are motivated every day to help people come and enjoy the beautiful place where you live and work with hospitality. This is so different from so many other industries. When you do your job well, you are offering one of the most important things that people have, their memories. The time that is shared with friends and family cannot be replaced.
Every time you enter the vendor showcase you are confronted with more and more of us. There are new technologies being offered that may well be missing the understanding about the HEART of the vacation rental industry. They don't delve down into the very real needs of what you have to deal with day in and day out.
My point here is be wary of "bleeding edge" solutions and to some extent industry providers who haven't been in the industry for some reasonable period of time. Because you are a unique tribe you deserve the in-depth understanding of the heart in this industry.
Partners, Partner Partners
It was fun to see our new Partner Manager, Janice, getting to meet with all of the partners that we have in the industry. There are so many of you that she was quite a busy lady (see a list of our integrated partners here). We also had some fun with new entrants to the market, including HappyCo who definitely had the best t-shirts at the show. Look for more information here at the Barefoot blog as we continue to add additional partners as a result of our meetings at the show.
Janice had so much fun at her first national VRMA that she called to tell me that she felt like "camp" had just ended!
Insider tip: Always try to find out where the partners are after hours. We are a fun group and we tend to pick up the tab!
Vern of Ali'i Resorts and Ed Ulmer tasting some

of the best oysters in New Orleans

Tracey of Long & Foster, Billy of Ali'i Resorts

and Derrick of Dollywood at the Barefoot social hour

Claiborne and Janice... ready to dance

the night away at the House of Blues
And Then This Happened
So we all get back into the office, deal with the backlog of emails, take a deep breath and then HomeAway accepts and offer to be acquired by Expedia. An acquisition has been expected for some time, but it was questionable who would be the final suitor. Expedia came as a surprise to some. Again it points to the trend in the industry for consolidation. It won't end here.
We are a preferred partner with HomeAway. One of eleven in the world, which allows us to provide our customers with a transactional integration that saves you a lot of time.
It is too early to tell what the ramifications might be for the industry. We will sit tight and wait for more news. Here is an article that points out that this deal is far from done, with more discussion about AirBnB making its own offer.
Denouement
Another annual conference is behind us. I am looking forward to the many conversations that this conference has sparked. I am grateful to our clients who spent time with us and shared their thoughts and ideas. I am bolstered by the conversations with partners and industry thinkers. I appreciate the conference staff, including Jamey and Sheila who work so hard to make everything right. Most importantly, I am grateful for the vigorous feeling of entrepreneurship and fun that makes every conference such a delight.
If you had other takeaways from this conference, feel free to share them below.
Claiborne Yarbrough
Director of Customer Engagement
Barefoot Technologies