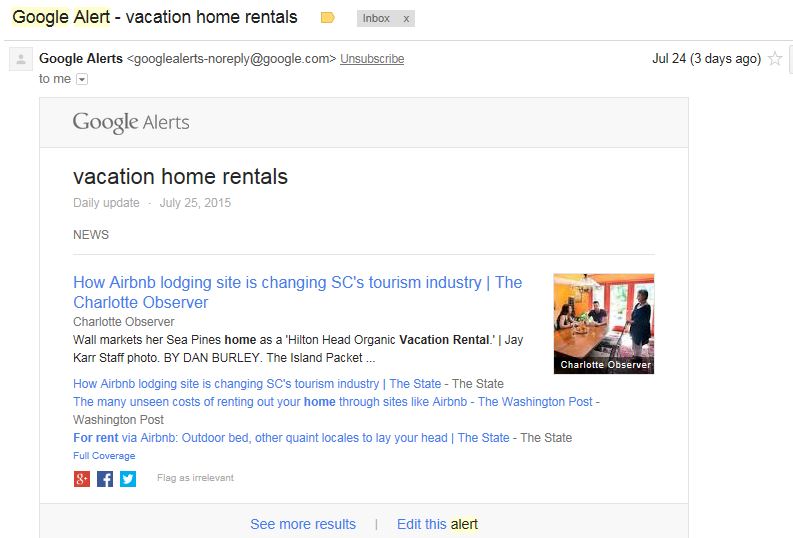 We all know that time is a finite. There are just so many hours in a day to include what you need and want to do to get through the day. With a new start in the vacation home rental industry, I quickly had to figure out how I was going include learning along with training in my new Barefoot partner manager position. Besides golfing in my free time on the weekends and practicing photography, I still have a home to maintain. After sharing the dinner duties with my husband, where was I going to find the time to keep up with vacation rental management news?
One night while catching up with Google news before falling asleep, (and yes, I know that's the worst thing to do before sleeping-- however, that's when I find the time to read the news), I discovered Google news alerts.
With a Gmail account, it was easy enough to set up an email news feed for Vacation Rental Management news alerts. Once I set this up, I get all of the top stories of the day from around the world for vacation home rental newsworthy items. These are sent straight to my mailbox. Now I stay informed about the areas that are struggling with short term rentals, the big players and the scams. If you are Gmail user, I encourage you to check out the Google news alerts for the news content you want to read. It's a nice convenience to have automated news delivered to my email.
Now that I have shared my timesaving hint for keeping up with the Vacation Home Rental news of the day, where do you find the time to do everything that you want to do in 24 hours? How do you use technology to save time?