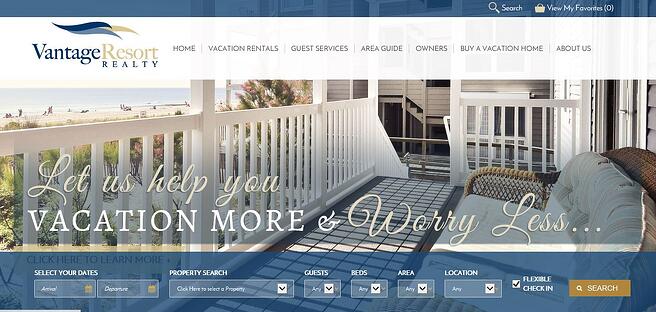 Vantage Resort Realty of Ocean City, MD launched their new website yesterday (http://www.vantageoceancity.com) . The website was developed by InterCoastal Net Design. (ICND), a Barefoot Technologies preferred web company. ICND and Vantage collaborated on the new website and utilized the API integration provided by Barefoot's vacation rental software.
"This is one of the advantages of working with Barefoot," notes Ed Ulmer, CEO. "We have fifteen years of development with a comprehensive set of API's that allow our web partners to get the data that they need to create compelling websites. We are excited to see how Vantage's new site will bring increased bookings and revenue. Great job ICND team!"
"At ICND, we continually try to push the boundaries in web design in our customer's best interests," notes Brandon Sauls, President. "With Vantage Resort Realty, we knew that we were working with a company that wanted to leverage cutting edge technology as the outward face of their vacation rental management company so we were excited to implement the following:
Responsive design. Friendly for all devices.

Quick search found on every page, allowing quick and easy searching

Results page backed with features such as Map Results, Quick Refine Search, Infinite Scroll, Compare Property Feature, etc.

Property detail page packed with features such as Split Cost Calculator, Flexible Dates, Property Q & A, etc.

Easy to use "Book Now" Checkout Page using a simple form with a proven high conversion rate.

Backend features that will blow your mind. It's all about BIG DATA and knowing how to produce usable reports to help you, the VRM, make better decisions!
We also would like to comment how much we like working with Barefoot. They listen not only to our shared client's needs but to our needs as well. Its great working with such an innovative partner," concludesBrandon.
Here's what Lance Stitcher, General Manager of Vantage Resort Realty, has to say about the new site:
www.VantageOceanCity.com website is extremely intuitive regarding the ways guests search. Information is laid out in a very organized way on all the pages. It is very user-friendly and utilizes the same kinds of up-to-date functions that consumers are used to in this day and age. It doesn't just provide information, it provides a smooth experience that guests will remember and want to come back to.

When I use a smooth site, it makes me want to come back to that brand again and again because I feel like they care about me and the kind of experience I have with them. I would say that it actually elevates the Vantage brand and makes us look good! It enables us to provide a high-end experience with the guest from their first interaction until check-out day.

The fully responsive/mobile version is a huge upgrade for us, as well -- it's very responsive and fast.

My personal favorite is the way the information is laid out on the individual property pages -- love that you can see daily and weekly rates at the same time as the minimum night's requirement. As a property manager who also wants to please our owners, I expect that our owners will agree that the property pages really organize the property info well and make their homes shine. Our site is going to make THEM look good, too, and we all know that property owners are judging websites as they shop VRM's.

On the customer service side, ICND worked hard to customize things in every nit-picky way that we asked them to. Their team was very accommodating, responded quickly -- seemed like we had their full attention and effort. And a lot of the features we thought would cost extra or would be difficult to implement came as part of their standard design. Lots of little bonus features that we weren't even expecting, such as Split Cost Calculator and ability for guests to post questions directly on the site (as Amazon and other big sites do, too).
We are excited to see our customer's position themselves to gain market share using Barefoot's Enterprise Resource Planning System (ERPS) for the Vacation Rental and Property Management Industry and the best web strategies in the industry from Barefoot's web partner InterCoastal Net Design.
Take a look at Vantage's new website and let us know what you think.
Update as of 6/31/15:
Thanks in part to the detailed data provided by Barefoot, Vantage Resort Realty has seen huge improvements in its online bookings since the launch of the new website. The partnership is working so well Vantage decided to launch three mini sites to highlight specific properties including Belmontoc.com, Meridianoc.com, and Sunsetislandvacationrentals.com.