Our friend over at VRM Intel, Amy Hinote put together this awesome survey with 94 vacation rental manager respondents. The survey focused on the technology that you out there are using. We at Barefoot found the information fascinating and wanted to make sure everything was shared with you. The original article can be found here.
While this survey was filled with useful information, a few points really resonated with me. The most glaring statistic was the response to "How many PMS systems have you used in the past 5 years". Not only were the amount of responses incredibly close between those who've used 1 or less and those who have used 2 or more, but the numbers show that almost half of you have used 2 or more systems in the past 5 years. It seems daunting that people cannot find an appropriate match for more than 5 years considering the average Barefoot client has been with us for 7+ years, and we have several who have been with us since we started over a decade ago. It does make you ponder how well needs are being met.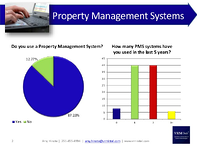 Another great slide was titled "Struggles with technology" in which the respondents found integration to be their most pressing issue. There were 2 interesting aspects when looking at this slide. First, it appears that the most people have the most trouble with integration. However, we can also see that more people have "issue" with limited features and functionality than any other aspect. It certainly seems hard to swallow that so many of you are out there struggling with your system's features. With a customizable platform that can cater to custom needs of our clients, we aim to alleviate this pressure point.
This survey has some great insight into your needs but it's only a start. We want to hear more about the pain points you face on a day to day basis. We would love to hear from you so leave a comment with your biggest gripe about the technology you use every day!