The vacation rental industry has long been seen as a "Mom and Pop" industry, one that focuses on the needs of the customer and not just the bottom line of the company. We have reported before on the pet friendly side of the industry in several blogs. Years ago, animals were seldom allowed in either hotels or rental homes but like the old saying goes, where there is a will there is away. In recent years, homeowners have come around to allowing animals to vacation at their homes just like their owners. After all, a dog's life is known to be very stressful.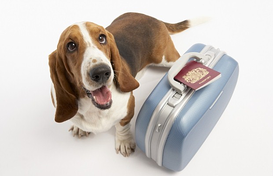 Several new business models have popped up with pet friendly travel in mind, everything from pet spa's to an airline specializing in pet travel have shown success. Not to be outdone in niche markets, major airlines and hotels have begun warming up to our companions. In fact on my flight back from Atlantic City at the Eastern VRMA, there was a dog on board. With all of these pet friendly services popping up, one has to ask if there is financial gain that can come to your business by having homeowners that allow pets.
Mark Borrin of Preferred Vacation Rentals in New England says that 20% of rentals on Lake Winnipesaukee will allow pets to stay in the home. In past years this number has ranged around the 10% mark while other companies have reported a similar trend. So what does this mean for business? Well to start you have now opened your homes up to a new market, additionally, most companies charge an additional fee for pet visitors. While not astronomical, pet owners are often more than willing to spend extra to bring their pets along. Another possibly surprising fact is that Mr. Borrin has reported "almost no problems by damage done by pets". With the realization that pet damage seems to be minimal but the monetary reward is pretty high, will you consider asking homeowners to allow pets?
One possible side effect is allergies for following renters, as Mark Borrin now informs renters if the home is pet friendly. Several things point to this being a good idea for homeowners. First, as in the case here in Lake Winnipesaukee, many rentals are travelling from within a 2-4 hour drive. The economy has led people to travel less to vacation. While limiting in some cases, it opens up the possibility for pets to travel these shorter distances as well. Also, as the economy has restricted travel, it has also restricted indulgence and many families are now vacationing together to save money. With families coming together, and pets often being considered family members, an even larger number of pets will be hitting the travel seen than before. So make sure that your business is ahead of the curve and not playing catch-up. Talk to your owners about the possibilities of opening their home to these new travelers.