We've decided to start a new kind of blog post where we put the spotlight on the amazing Barefoot customers who provide outstanding vacation rental management around the country.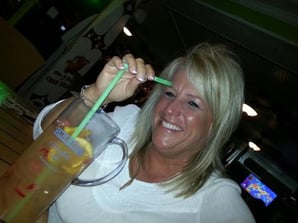 This week, we would like to focus on Seaside Vacations located in Myrtle Beach, SC. Please visit their website here. Owner Cyndee Colborn is our Vacation Rental Manager of the week and was nice enough to answer some questions even though she is still in the thick of her season.
Tell us something about your company.
Seaside Vacations was opened 20 years ago with just a couple of properties. I have been in the rental manager position since that time. We have grown to 200 properties and all are located in the North Myrtle Beach, South Carolina area. I wear any/all hats to get the job done every day. I coordinate all housekeeping, handle all bookkeeping, owner services, scheduling, coordinate work orders (working the front desk/cleaning/inspecting/decorating/shopping cover some other jobs I might be doing as well).
What makes your property management company unique.
We are small and customer service is HUGE. We still answer our phones personally (no auto attendant – only at night) and we provide excellent customer service to both our owners and our guests. Most of our homeowners have been with us for the entire 20 years and others for at least 15 years. And our REPEAT guest business is amazing!
What do you love about this business?
I love the business and I especially love the people involved from the dedicated hard working cleaning staff (some have been with me for the entire time!), the wonderful staff of family and friends (who commit themselves every day to making sure the guest has the best possible experience and that the homeowners receive excellent services) AND I am certain that we have the best owners and guests anyone could ask for.
My family has been blessed; generations of our family have worked here over the years – my grandfather, my mother, myself and my son. I have been so fortunate to have worked with and met so many others in the industry from software providers to vendors and folks from other parts of the country in the same business. It's true you have to be a little crazy to be in this business and I find myself fitting in perfect with the rest of the crazies!!!
Tell me something about yourself.
I am a dedicated hard worker most of the time. My life revolves around work BUT I love living on the coast. I look forward to the beach and try to be on it as often as possible. I ALSO look forward to my vacations each year where I find another beach to relax and unwind (PHOTO!). I am very fortunate as I am around the people that I love the most all the time – enjoying life in my FIFTIES!
Thanks Cyndee and the team at Seaside Vacations for everything you do for your homeowners and your visiting guests. And thanks for being a valued customer of Barefoot.