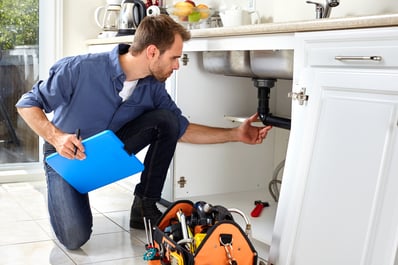 Vacation rental management involves juggling a range of tasks on a daily basis. Our days are often completely full managing owner partners and guests as well as chasing up special requests. As all of our time is usually already spoken for, unexpected issues can really take us by surprise.
One of the most stressful surprises we may encounter in the vacation rental industry is damage to a vacation rental unit. Whether it's from bad weather, a guest's party getting out of hand or simple wear and tear is irrelevant: we still have to pull out all the stops to ensure no guest is left without a unit to stay in, our owner client is satisfied with our handling of the situation, and the correct protocol is followed. This ad hoc task can easily consume a whole day or even more of your time.
Let's say the kitchen sink in one of your most popular vacation units is damaged and water begins to flood the room, damaging the flooring. You are confronted with a laundry list of smaller jobs that have to be completed to solve the larger issue at hand:
You'll have to communicate with your housekeeping team to let them know that the unit is damaged so their ordinary cleaning schedule will have to change.

The owner must be informed of the damage to their property, and they might have a few questions about the cause and extent of said damage.

You need to send a maintenance worker to the unit to assess the situation.

Based on this, your repairs team might notify you to say you need to find a specialist (e.g. plumber or flooring company) available at short notice to remedy the situation.

You'll need to contact the insurance company to inform them of the damage.

If the unit is booked in the near future, you may have to find alternative accommodation for the guest, so you'll need to check your availability across a number of different platforms.

You then have to contact the guest to provide them with a new address and apologize about the last-minute change.
This one phone call or email about a broken sink can consume engulf your entire day as you spend all of your work time fighting fires and chasing your tail.
The Barefoot Agent solution not only helps streamline your regular work tasks but also steps in during hectic days like this to make your workflows simpler. You can carry out all of the tasks above on just one platform. No need to waste time finding email addresses and telephone numbers for your repairs and housekeeping teams: you can simply contact everyone you need to contact directly from the Barefoot software portal by flagging the unit for repair and sending notifications to all parties involved. You can estimate when the repairs will be completed as you have access to your repair team's calendars and can check on them in real time. You can also easily see an immediate, up-to-date overview of your rentals, so you can select alternative accommodation for your guest without having to worry about double bookings and conflicting availability on different platforms.
This massive time saving not only saves you stress but also reduces the time spent on this one emergency, so you can still complete other tasks during your work day without falling too far behind. If this sounds like a system you and your vacation rental business could benefit from, feel free to get in touch to book a free consultation and demo today. We come to you, and give all departments and teams within your business an idea of how they specifically could use the Barefoot Agent solution to organize their tasks more efficiently.