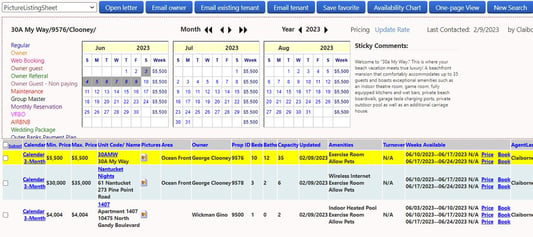 For some of you, January and February are months when you are reviewing all of your operations and getting properties ready for the season. You are also trying to get as many full price bookings as you can for your owners. As a Barefoot client, I would suggest that you consider some of the following tools and practices.
We've just introduced our Flex Week Booking Tool. If you are a Property Manager that books a lot of weekly stays? This visual and easy Flex Week Booking Tool can be a great time saver. If you want to turn this on in your system, please contact Barefoot support.
There is a great audit tool for looking at rules and pricing associated with individual properties inside of Barefoot. Go spend some time looking at the Property Rules Snapshot in the Property Page drop down list.
Did you know that in Barefoot there is a way to market to past guest who haven't booked by this time last year? Go to the Search for Guest page and on the right-hand side, click on "Rented Before" in the Rental History fields. Then you can select various date ranges to generate a list of guests that you can quickly send a personalized email to remind them that booking direct with you is the best way to get the best price.
Don't forget to spend some time looking at the triggers that you have set in Barefoot to send your emails or texts automatically. We've added several new "Job Types" including the ability to send guest an email to come early or stay later, adding extra days to their stay. There is some great documentation here in our support desk to help you get this functionality set up.
This might be a good time to take a look at any OTA relationships that you have. OTAs seem to be a constantly shifting landscape with different fee structures and rules. Reviewing the source of business information inside of the Barefoot reports should give you a good breakdown of where your bookings are coming from. Based on that, you should be able to calculate the related "marketing" effort and possibly spend. If you have questions about various platforms, please talk to your Solutions Engineer. There are also several recent, recorded webinars from our partners that might give you additional insight.
Operationally, now is the time to build out additional revenue streams that you may be able to handle in house. start to look at the anything you can do to keep revenue in house. Some of items that you might want to consider is the doing in house inspections or offer quarterly light bulb and filter programs. You can track property specific information as an amenity and then use Automated Service Charge and work orders to track the work being done and the expenses that may be passed on to the owner.
The last thing that I will mention is that now is a good time to think about whether your staff could use some additional training. We have grouped training topics for front office, operations and other key roles in your organization with regard to Barefoot. It is always a good idea to spend even just an hour talking through important day to day processes with your Solutions Engineer or the trainer.
Quiet months are a good time to spend on in the Barefooot vacation rental management solution that you might not have a chance to analyze during busy times of the year. As always, if you need help or want to talk through new processes and procedures, please reach out to our support team.