FOR IMMEDIATE RELEASE
11/28/16
Barefoot Technologies Releases Exciting Updates in Version 4.0
Henniker, New Hampshire -- Barefoot Technologies is delighted to release Version 4.0 of the Agent solution. Primarily focused on a new User Interface, which enhances efficiencies and usability for clients, Barefoot has also enhanced several functional areas. This update, coupled with new functionality in API flexibility, lead and customer management tools, activity and concierge upsell capabilities and group reservation enhancements, are an extension of Barefoot's continuous focus on the needs of the vacation rental manager.
"We really concentrate on substantive, consultative and partnering relationships with our clients, which gives us a huge advantage when it comes to being able to structure our development cycle to stay ahead of the industry," stated Ed Ulmer, CEO of Barefoot Technologies. "Each conversation allows us to draw upon a wealth of information as to what is really going on in vacation rentals and where the functional needs are to stay successful."
The release of Agent 4.0 offe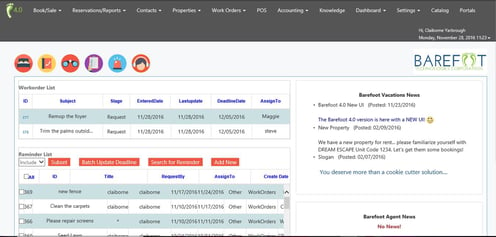 rs users the same robust functionality, but leaps ahead in efficiency and attractivene
ss. Using key elements of standard industry software usability requirements like drag and drop, short cut tools, a style guide and consistency of behavior, the Barefoot solution enhances each user's daily routines.
Barefoot has been developing the Agent solution for over 15 years for the vacation rental manager. In that time, each new requirement has prompted Barefoot to develop tools within the Barefoot Agent solution to help each customer meet their business needs. Barefoot truly feels that "each client needs to create their own market footprint". That's why some of the largest and most advanced vacation rental management companies rely on Barefoot, including Dollywood, Long & Foster, and Grand Welcome.
Whether you are a vacation rental management company, property manager, a blend of vacation rental and hotel, or a resort property, it would be our pleasure to learn about your business and suggest how our technology would add value. We grow each partnership organically. To start that conversation, please call 804.212.1280 or contact us at sales@barefoot.com.
To see more about what Barefoot's customers are saying, please see www.barefoot.com/testimonials.
About Barefoot
Barefoot Technologies offers one of the most innovative and flexible, cloud-based, vacation rental software solutions. Working with Barefoot is about more than a conversation about technology; our vision also focused on offering ourselves as consultative partners to help you achieve your business goals.
Twitter: www.twitter.com/barefootvr
Facebook: https://www.facebook.com/mybarefoot
LinkedIn: https://www.linkedin.com/company/barefoot-technologies
Media Contact:
Claiborne Yarbrough
(804) 212-1280
###