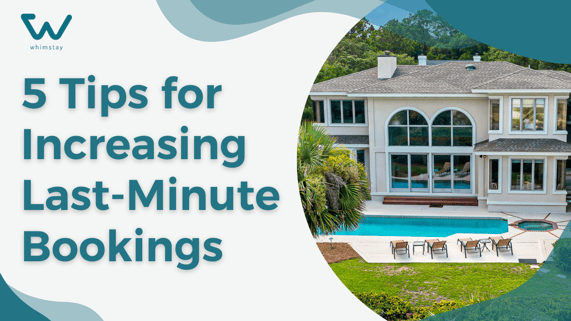 Searching for ways to maximize occupancy and revenue per available room? Scale your business by capitalizing on emerging trends to attract new travelers.
Here are five tips for boosting last-minute bookings in an ever-changing market:
Be Flexible About Minimum Length of Stay (MinLos) Requirements
Reducing MinLos for last-minute stays can attract travelers looking for quick trips with shorter booking windows.

While the average stay booked on

Whimstay

is 3.5 nights, nearly 25% of Whimstay users search for stays between 1 and 2 nights within the next 2 weeks.

Moreover, an additional 25% are searching for trips with flexible lengths of stay, indicating that price, property appearance, and amenities are influencing factors.
Diversify Your Channels to Maximize Exposure
Promote your listings on channels that focus on targeting new audiences—Whimstay markets to last-minute travelers looking for exclusive deals on properties that might otherwise go unbooked.

Whimstay's

traveler demographics show that the average user is 26 - 55 years old, focusing on millennials, young parents, and multigenerational families across a wide range of economic statuses.

Whimstay's average lead times show that 35% of users are booking stays within 1 week, and 25% of users are booking stays within the next 7 - 15 days.
Consider Flexible Cancellations for Bookings Made Farther Out
Create freedom for travelers to modify or cancel stays made with longer booking windows.

Offering flexible cancellations can help increase last-minute bookings by giving travelers confidence in their ability to change their plans without penalty.
Engage Your Audience
Showcase upcoming activities to do and places to visit for each region.

Share traveler testimonials, how-tos, tips, and tricks written by customers to build trust and attract new travelers.

Retarget audiences based on user behavior and real-time, 1st party data.
Promote Last-Minute Travel with Discounts
Entice drive-through traffic to stay longer with exclusive discounts for shorter booking windows and longer stays.

Whimstay's

average daily rate is $1,134 because of this tactic.
Let Whimstay help you generate incremental revenue and profitability – No commitment required, 5% commission, and 15-minute onboarding. Email getbookings@whimstay.com to learn more.
Editor's note: Barefoot is thrilled to partner with Whimstay to help our clients increase their last minute bookings using Whimstay's powerful marketing platform.