Today, one of the fastest growing groups of travelers and Influencers are the "Foodies" looking for unique experiences all over the country. Do you have an incredible home with a gourmet kitchen fit for a budding chef? Are there amazing restaurants in your area that families of all ages can take pleasure in?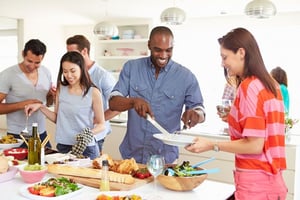 Does your locale have annual Food and Wine Festivals, Oktoberfests, or even a fun, family friendly Crawfish Festival with food trucks and a multitude of vendors? As a Vacation Rental Manager you need to be cross marketing your local gastro events with your vacation rentals. The Foodie Traveler eats well and travels often!
While it is always a pleasure to experience the delicious cuisine and impeccable hospitality in a variety of restaurants, your guest might find even more delight in having their own kitchen
For those guests who live to travel and love to eat, there's nothing better than a fully stocked destination kitchen to stoke appetites and arouse wanderlust.during their stay.
Think about the "heart of the home", take pride in stocking the fridge and pantry with destination-specific essentials such as local beers, BBQ sauces and salsas. Gourmet kitchens in many properties feature Wolf, Viking, and Sub-Zero appliances and outdoor kitchens with grills that are perfect for al fresco celebrations. Large dining tables provide plenty of space for friends and family to indulge in long meals and sip fine wines, without worrying about the drive home. We all know food tastes better when you share it with friends and family.
If you aren't already, you will want to begin using food trends in your area to attract more guests that represent a whole new opportunity for your vacation rental, integrating food culture — local recipes, ingredients, restaurants, and classes — into the vacation experience. Local tourism associations are also investing big in gastronomic marketing campaigns. And no matter where you happen to be located, local culinary tips can be woven into a vacation rental's fabric at a very low cost.
Local food tours are a great way to support the local economy too, ensuring that visitor's dollars reach the actual roots of the surrounding community, where money goes further. Their tours add great value to the guest's stay, without costing the host much time or money. They take advantage of the aforementioned cooking allure. And they are adaptable: for areas that don't have structured food tours, consider propositioning your local favorite chef or favorite caterer in town.
Whether your guests decide to take a bike tour of microbreweries, enjoy wine tasting at the local vineyards or sign up for a cooking class with a private chef, you create an experience for your guests that they will want to relive over and over. With amenities like expansive decks and gorgeous full kitchens (perfect for enjoying an adult beverage with a view, or cooking the catch of the day), your guests will be traveling in style.
We are in the midst of a foodie revolution. Any culinary connoisseur knows that the perfect dish is all about pairing. Food and travel are two passions that go together like a farmers' market and fresh produce. Travelers will tell you that trying a destination's cuisine is one of the most enhancing experiences of a trip.
This article was written by Deborah Morris of https://www.flourishingdesigns.com and published with permission.