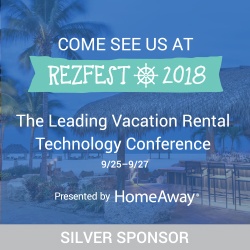 Barefoot is excited to attend their first Rez Fest as a preferred HomeAway partner. We are looking forward to meeting with our clients and to talk to attendees who are looking for the most tailorable and scalable software solution in the vacation rental management industry.
For those of you attending your first conference, it is a good idea to note a few survival tips.
There may be a lot of standing and walking so bring appropriate shoes

Make sure to bring a light sweater. It can be cold in the air conditioning

Stay hydrated, you'll be doing lots of talking

Spend time in the vendor exhibit area—we don't bite, and you will walk away with gifts for yourself or friends and family.
Here are some highlights from the schedule:
9/25 Tuesday
Opening Party
6:30 to 8:30 PM
Come mingle as we kick off the conference with the opening party in the vendor area
9/26 Wednesday
Vendor Exhibits Open—Level 1
7:30 AM to 6:15 PM, with cocktails and networking starting at 4:45 PM
Our booth will be located outside of the vendor hall on the right on the way in. Please feel free to come by any time and take our quiz "Will Barefoot Help Me Put My Best Foot Forward?" or for a demo. We are looking forward to seeing you.
Panel Discussion --Emerging Trends in Vacation Rental Technology
2:30 PM to 3:30 PM, Banyon 3 Meeting Room
Ed Ulmer, Barefoot's CEO, will participate in a panel discussion on emerging trends in Vacation Rental Technology
Want to take a deeper dive into the Barefoot system?
Make an appointment with Claiborne by clicking this link or by stopping by the booth, so that we can discuss your business needs and how Barefoot will help you address those needs.
9/27 Thursday
Vendor Exhibits Open – Level 1
8:00 AM to 4:15 PM
Make sure you come take the quiz "Will Barefoot Help Me Put My Best Foot Forward"!
Closing Party
7:00 PM to 9 PM
A beach party finale is a great way to spend time with new and old friends.
We are looking forward to seeing everyone!
Claiborne, Ed and Janice