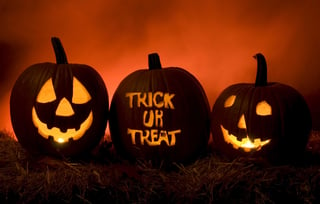 I thought I would have some fun with the great "holiday" of Halloween this month. I have written and countless others have written about the paying guest, how valuable they are, focusing on making them repeat guests, and doing everything you can to enrich their experience with things you can control. However; what happens when your guest becomes a trick and not a treat? Let's take a look at some nightmarish scenarios I found online. I am not sure if these are urban legend, if they have been embellished or if they are true. Anyway…It was a dark and stormy night…
Sticky Fingered Guests -
"My family used to own a beach house in North Carolina, which we rented out. One time we came back in September to find that somebody had stolen not one, but two of the hammock swings that we had outside by our porches. Literally, someone had detached all the chains and made off with them. They weren't just hammocks, they were kind woven seat swings with wooden parts attached for stability and form, with built in cushions," said one commenter. Since his family rented out the house to so many different peoples, they weren't able to catch the culprits.
The Ghost Tenant –
"An owner took the only route possible to avoid trouble at their rental condo during Panama City Beach's highly popular and notoriously rowdy spring break: Rather than attempt to vet groups, the owner chose not to rent it at all. As fate would have it, a group of inebriated renters on the same floor thought this owner's condo was theirs. Frustrated, drunk, and unable to access "their vacation home," the guests did what they had to do. They broke down this owner's door!"
The Haunted Bouncy Castle-
"This story was from a long-time veteran that had a yuuuuge property. With a number of previous issues with renters at this very expensive home, the property manager had a specific "no children allowed" policy. One day after renting to a group that promised to abide by their policies, the P.M. went to check on the property. As the P.M. came down the driveway something gradually began rising above the treeline by the property. What was the growing figure in the distance? Nothing but a large, inflatable, bouncy, castle."
The Bride of VacationRentalStein–
"When he came home he noticed a lot of things just seemed off with his house—furniture not exactly in the same place, paintings on the wall were crooked, carpet really dirty for just two people, and his back yard was wrecked, A few days later he runs into his next door neighbor who starts asking him about the wedding. My brother had absolutely no idea what he was talking about and comes to find out the couple who he rented his place out to threw a full on wedding at his house."
I know that a couple of these nightmarish accounts were not managed by a professional management company and most likely would not have happened if they had been managed professionally. That is because most professional management companies take the right steps in vetting potential tenants. With that being said I still think it is always good to take a look at your vetting/screening process and make sure you and your staff have a good plan in place.
Some things to consider when renting:
Talk to the Potential Guest – To me this is probably the most important way to get a reading on the type of guest they will be.
Ask Questions Like: How Many People? What is the purpose of the trip? Do they have pets?
Learn from previous poor tenant experiences to make decisions regarding future guests.
Review Policies and Procedures for that particular rental.
Do they need special accommodation or access?
Make contact upon arrival. Does everything meet their expectation?
Trust your instincts or guts (had to keep the Halloween theme). If they just don't seem right be ready to give a firm but diplomatic reason for not renting.
Don't hide the warts. In other words set expectations correctly on each rental. Don't let there be surprises. I am not saying to lead with all of the flaws, but don't be afraid to let a guest know it may not be perfect. The guest is going to have questions and it is good policy to not oversell.
I am sure that each Property Manager reading this has a few guest horror stories that they can tell and we would love to hear them. The good thing is that there are many more good guests than the monsters who bring you grief. Take a look at how you screen your potential guests and figure out if you can improve your process and learn from your own and other property managers past challenges. Happy Halloween!