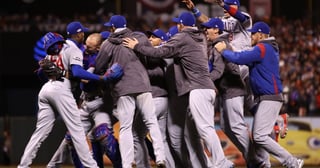 It finally happened. The date: November 3rd, 2016 at approximately 12:45 am. The Chicago Cubs won a World Series for the first time since 1908, the first time in 108 years. I am one of many (until recently) long suffering Cub fans that have endured years of disappointment and the moniker of lovable losers. There have been years of moderate success, but most of us by now know that the Cubs had not been to the World Series since 1945. A 71 year absence that legend has it was the result of a curse. And what was this curse? It was because at the last World Series in 1945 in the beloved Wrigley Field a patron (and local business owner) was made to leave Wrigley Field because he had a live goat with him. When he was told to leave he put a curse on the Cubs stating that they would never be in a World Series ever again.
Since 1945 the Cubs have been fairly pathetic only going to the playoffs a handful of times. 1984, 89, 98, 2003, 2007, 2008, and 2015. To perpetuate the curse there were things that happened to the Cubs that seemed to back it up. 1969 the black cat crossing the Cubs dugout, and right after that the Miracle Mets coming from 8 or 9 games back of the Cubs in August to eventually go on and win the World Series. In 1984 the Cubs collapsing and losing 3 straight to the Padres ending in a ball going through the legs of Leon Durham in the final game. And who could forget game 6 in 2003 with only 5 outs to go to the World Series when a lifelong Cub fan named Steve Bartman (along with 5 other fans) going after a foul ball that interfered with Cubs outfielder Moises Alou. It was easy for fans to hang onto the curse of the goat as the reason for the Cubs not having success.
But then in July of 2009 the Ricketts family bought the Cubs. This was the turning point. From there they hired Theo Epstein as the new President of the Cubs. For those of you who do not know, Theo was responsible for ending the curse of all curses with the Boston Red Sox….The Curse of the Bambino. Theo figuratively tore down the Cubs made shrewd trades and built the best farm team in the game. From there he hired probably the best manager in baseball, Joe Maddon, and the Cubs have not looked back since.
The beautiful thing about this is that the Cubs are not a flash in the pan type of team that is going to break up because of free agency or tenuous relationships. This team is incredibly young and built for years of success with an amazing infrastructure from ownership, to front office to the team itself. It is an amazing success story that is not because some curse was broken, but because a great team was put in place from top to bottom.
If you have stuck around this long I congratulate you because this is where I see the correlation with building a successful business and one that will last.
Be Clear on Your Vision – This is the scene you want to set for your employees. You want to make sure everyone knows what your goals as a company are. Eye on the prize.

Create Your Culture – The Cubs talk about a culture of excellence. Having everyone from the front office to the players focusing on the process and not the results. Plant the seeds of the culture early on so everyone will get excited about being part of the team.
Be transparent about future plans – If possible show incremental milestones you want to achieve with your staff.
Describe your expectation of how you want your business to interact with customers, prospects and partners.

Involve Staff - Learning your employee's strengths is vital to involving them early in the day to day operation of your business. Make sure staff knows that the more they put in the quicker your company will achieve its goals and the better their rewards will be.

Get employees involved early with meaningful work that is in line with your vision.
Challenge employees, push them out of their comfort zone, to see how they grow.
Be sure to acknowledge success. Give praise where praise is due.
Be a teacher and make sure to utilize your more senior staff as mentors.

Everyone has a role – Define roles clearly. Everyone needs to know what is expected of them as well as what their specific job is.
All work and no play makes Jack a dull boy. It can't all be work, work, work. Holiday parties, end of season parties, rewards, and off-site type of team building are things to consider.
Embrace the differences in personality amongst staff. It takes all kinds to make up a team. You always hear about good chemistry with a sports team. This is the same for any work environment.
Learn how to identify issues early. Many teams may have all the talent in the world, but they don't have the right chemistry. Having open communication and a knowledge of your staff is vital to identifying when adjustments need to be made. Be aware of people that are just not right for your culture. Make sure to exhaust all steps before terminating. This should be a last resort and all proper local legislation should be followed.
Let your team know that you value them.

Learn about family, hobbies, personal life in general
Find out what their ambitions and goals are long term. Try to help them to get there.
Be sure to invest in your team. Give them tools to succeed like better tools, education, and a great work environment.
This was mentioned earlier, but be sure to recognize and reward victories and successes of all sizes.
You are the leader so be sure to stay positive and not to lose your cool.
As a Cubs fan it seemed that I would never see the team win a World Series. However; when Theo Epstein became the President of Cubs Operations it was clear of the plan he had put in place. He had a press conference stating his plan and what his goal was. He was clear that it was not going to happen overnight, but it was also very clear what the ultimate goal was...creating a culture of winning. Those goals were embraced by a team that bought into the process and success soon followed. The great thing is that this team should be around for a very long time. A Vacation Rental business is no different in how they should approach success. Creating a vision and clear goals with the right team members is the key to building an amazing team. As the leader of this team it will take constant evaluation of team members in which they need to be challenged, trusted, and rewarded. Be sure to take a look at your team and figure out if you are on your way to achieving your ultimate goal.