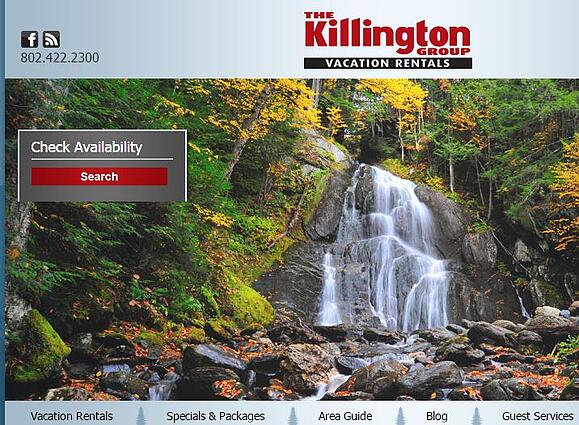 Henniker, New Hampshire -- Barefoot Technologies is delighted to welcome The Killington Group to our customer base. The Killington Group was eager to make a change to their vacation rental management software ahead of their upcoming season. They came to Barefoot ready to do what it took to implement the Barefoot system. The Killington Group has gone "live" in under three weeks with Barefoot. Leveraging the strong implementation procedure, The Killington Group team was able to build rules based on their business needs.
"One of the most important things that we look for in our customers is a willingness to dig in and be part of a successful implementation," said Ed Ulmer, CEO of Barefoot. "We are always appreciate of customers who understand the value of technology and the benefit of consultative implementation processes."
The Killington Group was keen to have a software partner that not only provided a technology platform that would be able to help them compete in a competitive market, but that would easily allow them to integrate with a variety of online marketing portals. In fact, they wanted a third party between them and these portals to make sure that their business was completely accountable.
Bob Montgomery shares this about his decision to go with Barefoot "When we started our discussion with Barefoot, we understood that we were dealing with a very different kind of company," said Bob Montgomery. "We are a people oriented company who wanted folks who understood that we wanted the personal attention and support along with world class technology. It is what brought us to Barefoot."
As the one responsible for the successful implementation of Barefoot, Kent Hower, offers the following "from the get-go, we knew that if we followed the Barefoot procedures for implementation and worked hard, we would meet our goal of implementing this system within a month. We couldn't have asked for a better, more service based team than the one we had at Barefoot. We all know that software implementations can be difficult, but we worked hard, we kept a sense of humor and we successfully achieved our goals. It was a great experience."
The Killington Group Vermont Vacation Rentals
The Killington Group prides themselves on being a small family owned real estate services company. They have been serving the greater Killington area in one way or another for the last thirty years. They serve private home and condo owners and provide professional property management services. Please feel free to call them at 802-422-2300.
The Killington Group offers vacation rentals here in Killington VT. We represent private home and condo owners and are here to serve your vacation needs. We also offer a wide variety of professional property management services. Please browse our rentals and call if you have any questions. 802-422-2300.
About Barefoot
Barefoot Technologies offers one of the most innovative and flexible, cloud-based vacation rental software solutions. Working with Barefoot is about more than a conversation about technology; our core values are intertwined in our vision to offer ourselves as consultative partners to help you achieve your business goals. For thirteen years, our focus has been to provide a solution that allows you to do business you way, and not because of the limitations of any software you might be using. If you would like to learn more about Barefoot's solution, please visit www.barefoot.com or email sales@barefoot.com.
Twitter: www.twitter.com/barefootvr
Facebook: https://www.facebook.com/mybarefoot
LinkedIn: https://www.linkedin.com/company/barefoot-technologies