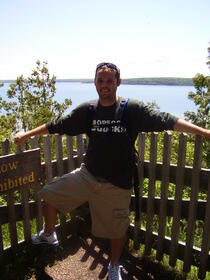 We wanted to introduce a new member of the Barefoot team, Sean Woodie. Sean will be joining the leading customer support team in the vacation rental management industry.

I asked Sean to share a little bit about himself:

"My first exposure to the Vacation Rental Industry was in 2001 working for a small equipment and linen rental business in Myrtle Beach, South Carolina. I was later promoted to management, and eventually became an owner operator. I was also involved in high-volume commercial laundry, walk in rental locations, golf cart retail and rentals, and a walk in Jet Ski rental location. I found that working with vacation rental management teams and their guests was extremely rewarding. After a couple of family get-togethers in vacation rentals, I realized the passion I have for the industry.

In 2011, I decided it was time for a change in scenery and relocated to Charleston, SC accepting a Sales position at Advanced Management Systems. AMS provided me with the opportunity to meet vacation rental managers all over the country and provide software solutions for their everyday business needs.

My decision to join the Barefoot team was primarily driven by my passion for vacation rentals and to be a part of an innovative team. Over the years I have had the opportunity to get to know and work with countless vacation rental management companies. All have been wonderful to work with, but a few I truly admire. In part, my decision to work for Barefoot had a lot to do with the vacation rental management companies I admire, and their choice in Barefoot as their software provider."
Well said, Sean. We are very fortunate to work with the companies that our in our customer base. We are looking forward to leveraging Sean's skills in support of these customers.