Today's marketing world is always filled with words like cost analysis, ROI, social media and more. With all these buzzwords coming through your vacation rental business, it can be hard at times to constantly learn, understand, implement, and track the success rates of all your marketing tactics. Efficiency is essential in today's world and what can be more efficient than a free marketing tool? Here are Barefoot's top 5 free marketing methods!
1) Free Night Stay- Free giveaways are some of the best methods you can use to stir up excellent referral bases. Offer them to influential local personas that can influence local renters. Chamber of commerce members, radio personalities, and anyone involved in the tourist market in your area. Involving more people in promoting your business always garnishes a great return.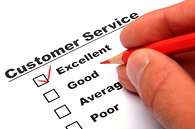 2) Return Guests- The time and effort you put into each guest is far too high to allow themto leave your business at checkout. Follow up with people who have stayed and manage your interactions. An easy way to help nudge clients to return is remember their likes, such as skiing, fly-fishing, or a sports team, and send them a reminder when the appropriate season comes about.
3) Website Reviews- They exist, the only question is whether or not you embrace them. Host reviews on your site to let guests see how great your services are.

4) Owner Website- Giving your owner a stake in the success of their property is an amazing tool. It's not for every owner as some hire you for the simplicity, others however would love nothing more than a little room to run and promote their property. The average homeowner lives 200 miles from their second home, imagine the cost of advertising to every market your owners live in. Giving them some controlled freedom gives you access to markets well beyond your reach.

5) Portal Partners- There are many portals out there that will gladly list your property and take a commission on bookings through them. Well as the old saying goes, 50% of a little is better than 100% of nothing. The key to look for is a transactional portal, one who will only charge per transaction. Subscription based portals can absolutely pay off as well, but hey, I said free!
The moral here is to be creative with your time and money. If you expect to do as everyone else does, you will only see as much success as anyone else. By taking a step back and outthinking the industry your marketing budget can go much further than you could imagine. The best part of all these tactics is that there is no negative return! Experiment with as many free marketing tactics as you wish, your ROI can only be positive!