About Us
You Deserve More Than a Cookie Cutter Solution
Barefoot provides an industry leading Enterprise Resource Planning System (ERPS) for the varied needs of the Vacation Rental and Property Management Industry. With one product in development for over 16 years, Barefoot offers a robust technology solution that is built on the SQL Server platform.
In acknowledgement of the various and very specific needs of vacation rental companies in different markets, Barefoot has been developed to be tailored and customized. We empower our clients to tailor their own systems through our training and support. We also offer customization to our clients through scoped projects that are developed and tested by our development team.
We are very aware of the evolving forces that this competitive industry requires and we are constantly bringing the needs of our customers back into our software through our monthly updates. We also tackle five or more large projects annually that provide greater security or enhanced functionality for our customers. Often, these projects will allow us to be the first to market. Examples include owner and guest access, lead management and CRM focused on the vacation rental industry and unique social media tools.
Barefoot also partners with other best of breed technologies in the industry that run the gamut from marketing portals, to financial services, to home automation and insurance providers. Our partner program is based on providing our customers with integration choices. We place a significant emphasis on our API (Application Programming Interface) tool. This makes us a highly desirable partner and is one of the reasons why we are a Preferred Partner with HomeAway for the professional property manager. This year we are focusing on breaking out the API calls for more security and also to provide more documentation.
In summary, Barefoot is poised to handle a wide range of customers in the industry including time shares, campgrounds and portal solutions while still providing the cutting edge tools needed for those who seek to create a niche market in an ever competitive industry.
About Our Team
Ed Ulmer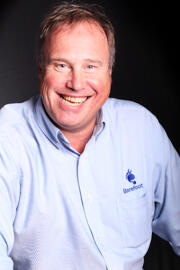 What is your role with Barefoot?
Chief listener and fixer How did you get interested in the vacation rental industry? Fell into it with a real estate, leasing and tourism background
What are your hobbies?
Swimming, Kayaking, skiing, my girls (daughters and wife) and travel
What is something that most people don't know about you?
Played college soccer for UNH and had my jaw and nose broken in game-they fixed the nose, then realized I had broken the jaw and I backpacked 2000 miles across the Australian outback.
Steve Brandt
Steve and his tuna
I am the "official" trainer for Barefoot, helping folks figure out how to drive this awesome and complex machine.
How did you become interested in the vacation rental industry?
I was working for Navis here in Bend in their tech support department and that opened my eyes to the size and scope of the industry. I had no idea it was this big.
What are your hobbies?
Too many to list. Fishing. Photography. Racquetball. Astronomy. Hypnosis.
What is something that no one knows about you?
I am a certified Hypnotist.
Tracey Wolter

The "man" in my life...Tracey & Jasper April 2014
I am currently our Project Manager, and leader of our US Support and Training Teams for Barefoot. My main concerns are managing our Onboarding and Support processes, as well as assisting you with accounting specific questions and set up. I also assist all our departments with internal projects. I thoroughly enjoy working with all our clients and our team!
How did you become interested in the vacation rental industry?
I started working for a small vacation rental company when I lived in Telluride, CO back in the early 1990's. I was more interested in working in the restaurant industry, but found that I enjoyed working with tourists and owners because I found that building long-standing relationships is more rewarding. As my company grew and changed I found myself learning more an more about the lodging/hospitality industry as well as taking a "left turn" into HOA Management. Over the course of the years spent in the industry I have been exposed to all aspects of the business and find that there is something new to learn everyday!
What are your hobbies?
I enjoy cooking and entertaining. I also am an avid reader. I currently live in Ouray, CO where I can enjoy all sorts of outdoor activities, as well as learning about our mining history and geology.
What is something that no one knows about you?
I was a Girl Scout well into high school, which was kept secret at the time, but I'm proud of today!
Liyan Ying
I work as part of the support team and also work with our developer team for projects and work order systems.
How did you become interested in the vacation rental industry?
When I started to work with Barefoot, I started to love vacation Rental industry. I also love our team and our software. I am glad to be one of the Barefoot team.
What are your hobbies?
Tennis, basketball, read book and travel
What is something that no one knows about you?
I have acrophobia.
Sean Woodie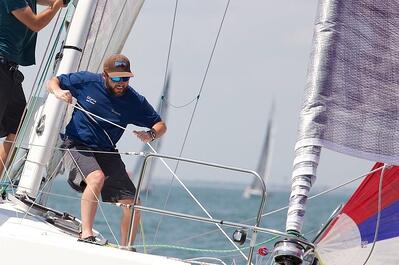 Here I am "doing my duties on the pointy end" at Charleston Race Week 2014.
I am is a Support Specialist for Barefoot assisting clients with their questions.
Here is why Sean likes working in the Vacation Rental Industry:
"My first exposure to the Vacation Rental Industry was in 2001 working for a small equipment and linen rental business located in Myrtle Beach, South Carolina. I was later promoted to management, and eventually became an owner operator. After years of explosive growth the company had evolved into a full time, year round business, serving VRM's and their guests from South Eastern North Carolina to Charleston, SC. Being part of a unique small business provided me with exposure to so many other facets of the industry. I was involved in a high-volume commercial laundry, walk in rental locations, golf cart retail and rentals, and a walk in Jet Ski rental location.
I found that working with vacation rental management teams and their guests was extremely rewarding. After a couple of family get-togethers in vacation rentals, I realized the passion I had found for the industry."
"My passion is sailing and the ocean. I am an avid outdoorsman and enjoy camping, hiking, backpacking, and fishing. I love to run, wrench on cars, race my 1/8th scale RC car, target shoot, and occasionally pick up the guitar.
Something you don't know about Sean?
He absolutely adores his 6lb Chihuahua.
Claiborne Yarbrough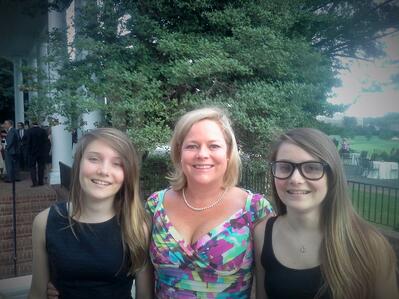 Claiborne and her twin daughters Kate and Maggie
I work as part of the Barefoot sales team and I also handle marketing for Barefoot. I call myself the Director of Customer Experience because my focus is making sure that our prospects and customers have the best experience that they can have by partnering with Barefoot.
How did you become interested in the vacation rental industry?
I lived on the Outer Banks of North Carolina for ten years and became very familiar with living in a vacation destination. I also have owned several vacation rental homes so I have the perspective of being an owner that has worked with different vacation rental management companies. With my background in marketing, I fully appreciate all of the intricacies of what vacation rental management companies do to market and brand themselves to both vacationers and home owners.
What is something that no one knows about you?
I am a patent holder for a renewable energy learning kiosk.
Jackie Goldman
Jackie and the kids out in Chicago
I am the Customer Relationship Manager, a support team member and a trainer for Barefoot.
How did you become interested in the vacation rental industry?
I Fell into a position in the vacation rental industry where I enjoyed the daily contact with traveling guests. We used the best booking software, Barefoot, and I was lucky enough, a few years later, to become a member of the Barefoot family.
What are your hobbies?
Biking, kick-boxing, painting, acting, bass guitar and the Red Sox!
What is something that no one knows about you?
I'm scared of birds. :)
Janice Brunelle
I am the Partner Manager for Barefoot, a new position created to work with all of our partners improving the partnering experience for all of our clients.
Managing contracts, resolving client issues with partners, marketing new partners and organizing all of the information that comes from our partners is just a couple of the tasks that fill my days at Barefoot.
How did you become interested in the vacation rental industry?
I was semi-retired from the laboratory medical field when I learned about the position. Being too young to be retired, I was looking for a challenging career change. I found it here at Barefoot, my only regret is not being in the industry earlier. I love having the opportunity to work remotely to escape the snow of New England. I get to split my time between being in our office in Henniker and my condo in Florida.
What are your hobbies?
Golf, reading, photography and kayaking.
What is something that no one knows about you?
I don't like driving on high bridges and through long tunnels. Makes the drive from New England to Florida interesting.