Why Should I Attend the Barefoot User Conference?
The Barefoot User Conference will be our 2022 annual customer get-together where we want to create a forum for our clients to learn, collaborate, and get energized by sharing best practices with one another.
This year's theme is "Empowering Independence." We've all seen the money move into the industry and the resulting acquisitions. While that is still a reasonable exit strategy, many of you continue to be leaders in your markets and the industry as independent players. We are going to bring you content to empower you with more options and knowledge to continue to facilitate that.
If you've never been to a Barefoot User Conference, you are missing out on training, thought leadership, tips and tricks and just an incredible amount of sharing from other Barefoot Users. This is the single most important investment you can take to maximize your use of your central and daily technology.
When and where is this?
Join us and other Barefoot users November 10-12 in Hilton Head, SC. We are thrilled to host our user conference at a Barefoot client facility-- the Hilton Head Beach and Tennis Resort. We will have three days of sessions and meetings and the Hilton Head Beach and Tennis Club invites you to come early and stay late for the same special rates.
We are excited to see you and share some low country hospitality!
Where do I register?
Please register for the conference using the form on the right.
Registration will cost $500 per person, but if you buy two registrations, you will get the third for free.
All registrations will be billed the month following registration. No refunds will be given after October 15, 2022.
How do I Book Rooms at the Resort?
To book your rooms, please call 800-475-2631 and mention "Barefoot User Conference" to reserve your room. Again, you are welcome to come two days early and stay two days after the conference to enjoy the property and Hilton Head Island.
Rates for the rooms are as follows:
1 Bedroom Oceanfront $180/night
1 Bedroom Oceanview $155/night
1 Bedroom Resort View $145/night
2 Bedroom Ocean View $170/night
2 Bedroom Resort View $160/night
Rates do not include a one time cleaning fee of $100 for one bedroom villas or $115 for two bedroom villas. There is also a 10% South Carolina tax that will be applied.
What is the Schedule for the Conference?
The conference schedule is listed below but is subject to change.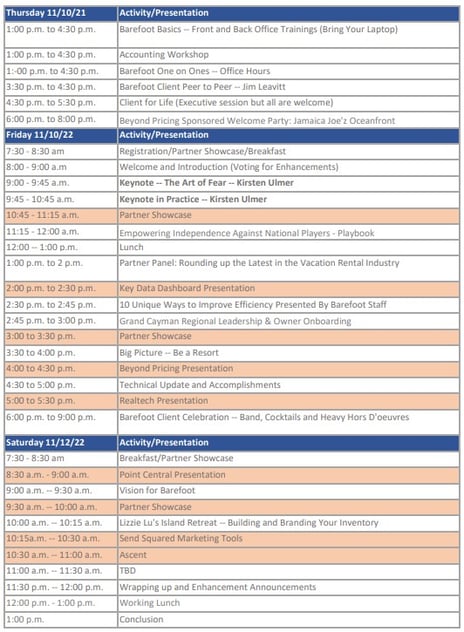 If you would like to be a silver sponsor of this event, we would love to have you join us. The cost for a six foot table and two attendees is $2500. If you would like to attend as a non-exhibiting partner, the cost is $800 per attendee.
Please contact ed.ulmer@barefoot.com to secure your sponsorship opportunity. We thank you in advance!